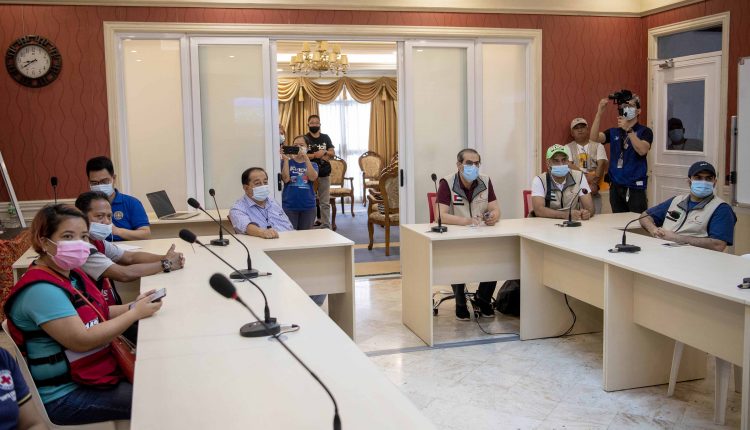 Emirates Red Crescent helps Hurricane Johnny affected people
The Emirates Red Crescent Authority (ERCA) has strengthened its humanitarian efforts to support people who affected by Hurricane Johnny in the Philippines, through the urgent and varied relief aid that is distributed to thousands of families in several affected areas through the Emirates Red Crescent Authority delegation present there currently in cooperation and coordination with the country's embassy in Manila and the Philippine Red Cross.
UAE humanitarian efforts supporting affected people by Hurricane Johnny
The Emirates Red Crescent Relief Program
The Emirates Red Crescent (ERC) launched its aid campaign within the first phase of the authority's relief program, to provide the urgent basic needs of those affected by Hurricane Johnny, in implementation of the directions of the Crown Prince of Abu Dhabi and Deputy Supreme Commander of the Armed Forces, His Highness Sheikh Mohammed bin Zayed bin Sultan Al Nahyan, and following up on the ruler's representative in the Al Dhafra region, President of the Red Crescent Authority, His Highness Sheikh Hamdan bin Zayed bin Sultan Al Nahyan.
The delegation is providing more necessary relief supplies, including food, housing, and medical supplies to several areas most affected by the cyclone, despite the difficulty of accessing them in these circumstances.
The Emirates Red Crescent Delegation in Manila
The delegation met the President of the Philippine Red Cross (PRC), Richard Gordon, in the presence of representatives from the country's embassy upon his arrival in the capital, Manila, and the two sides discussed ways to enhance coordination and cooperation mechanisms to provide the best relief services to those affected.
Humanitarian situation due to Hurricane Johnny
Richard Gordon briefed the delegation of the authority on the humanitarian situation in the Philippines and in the areas affected by the Hurricane Johnny in particular, and informed them of the most important relief supplies needed by the affected people, noting that about one million and 600 thousand people were affected by the floods and mudslides left by the Hurricane Johnny.
He stressed the importance of the role that the UAE and its wise leadership play in improving the humanitarian situation in the Philippine arena and expressed his thanks to the Emirates Red Crescent Authority (ERCA), which plays a vital role in mitigating the effects of the Hurricane Johnny on those affected.
The Emirates Red Crescent Delegation in Legazpi
The delegation of the Emirates Red Crescent met in Legazpi, the capital of the Bey region, with Al Francis C. Bichara, the governor of the region who explained the humanitarian situation and the repercussions that the Hurricane Johnny left on the population there.
The delegation made an inspection tour in several regions of the region most affected by the disaster, during which it examined the extent of the damage suffered, and learned about the needs of its residents, which will be met immediately through the operations of the relief agency currently underway on the Philippine arena.