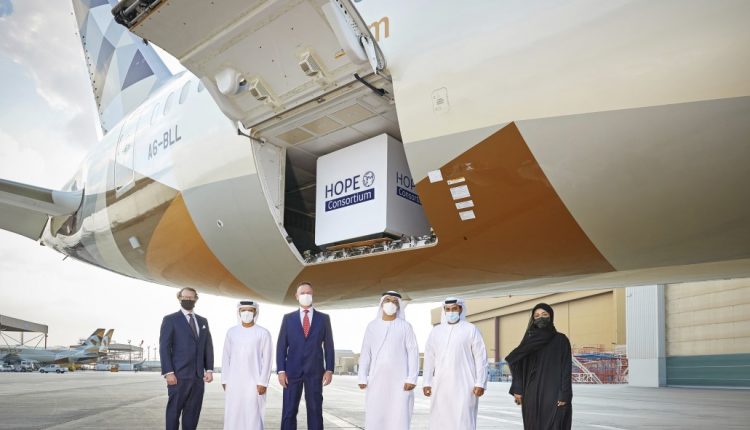 Hope consortium provides solutions to transfer COVID-19 vaccines globally
Abu Dhabi launched the Hope consortium to support the global efforts to distribute COVID-19 vaccines to all parts of the world, with the expected increase in demand for logistics services dedicated to transporting vaccines all over the world, which strengthens the emirate's position as a global logistics center.
The Hope consortium Launching
The consortium which includes leading local and global parties provides integrated supply chain solutions to meet the vaccine transportation process, demand planning, supply, and training, besides providing digital infrastructure to contribute to the provision of the vaccine worldwide.
After Etihad Shipping and Destruction transferred five million vaccines during the month of November under the supervision of the Department of Health in Abu Dhabi, so the Department launched the Hope consortium, which will oversee its regulatory compliance and its full range of expertise and scientific aspects.
The Hope consortium offers integrated solutions
The Hope consortium has mobilized its expertise to provide logistical services to deal with over 6 billion doses of global vaccines that are currently being developed and manufactured, including single or multiple doses, and stored in ultra-cold temperatures in 2021, which is one of the largest storage and logistical capacities in the world and the largest Regionally.
Commenting on the establishment of the consortium, Chairman of the Department of Health in Abu Dhabi, His Excellency Sheikh Abdullah bin Mohammed Al Hamed, said: The Hope consortium is an outstanding example of Abu Dhabi's leadership in providing solutions, and capabilities to help the world overcome this health crisis COVID-19, and it also reflects the ongoing cooperation between the local and global partnerships between the public and private sectors in the United Arab Emirates and internationally, besides ensuring the supply of the vaccine to the local market.
The Hope consortium will offer international governments, Non-Governmental Organisation (NGOs), and vaccine suppliers a comprehensive solution for all stages of the supply chain, from airfreight, regional warehousing, and control of storage temperatures to inventory management, providing cold and ultra-cold container solutions, besides obtaining regulatory permits and ensuring the quality of pharmaceutical products and health care services.
The vaccines for the COVID-19 virus, which will be stored in Abu Dhabi port facilities, will be distributed to the pharmaceutical and healthcare sectors through Etihad Shipping, as the UAE has got the certificate of the Independent Auditors Excellence Center of the International Air Transport Association for Medicines Transport Services for being the first carrier in the Middle East to carry out various vaccines around the world, and Etihad Cargo will also depend on its extensive network, effective fleet, and aircraft flights.