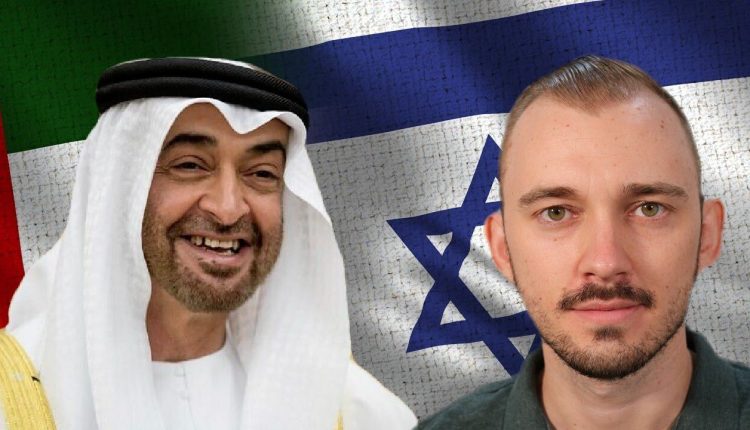 Interview with Hananya Naftali: The Dream Of Peace in the Middle East is finally happening
A special interview with Hananya Naftali through our website UAEVOICE, he is an Israeli public speaker and an influencer who is known for his videos about the Middle East. Naftali is working for Prime Minister Netanyahu on the social media team.
The interview with Hananya Naftali took place as follows
What is Israel's public opinion about the political initiative?
Hananya Naftali said that: This historic achievement that was made by the historic leaders Prime Minister Netanyahu and Sheikh Mohamed Bin-Zayed, brokered by President Trump. It was warmly welcomed by the people of Israel.
Hananya Naftali added, Most of the Israelis are already looking at pictures and videos of Dubai and Abu Dhabi, waiting to purchase flight tickets to travel there. They have never been to this part of the world, and Israelis want to make friends in the UAE.
What were the official Israeli side expectations of a Palestinian side reaction otherwise?
Hananya Naftali said that: they knew that the Palestinians are not going to like this idea, despite the fact that it promotes regional peace in the Middle East.
Hananya Naftali added They have burned images of the Crown Prince, flags of the UAE and Israel, and its leadership held an "emergency" meeting to come up with ideas to foil the peace agreement. They want peace with them, we offered them peace many times – but their answer was "NO" each time. So in his opinion, they cannot complain now that we bringing peace in other ways with the Arab world.
What do you think of the position of Iran and Turkey denouncing this agreement?
Hananya Naftali said that: It's very simple. Those that don't welcome peace in the Middle East, are opposing it because they are benefiting from conflict.
Hananya Naftali added Iran's Supreme Leader Khamenei said that this is a betrayal of the Islamic world, and Hananya Naftali ask him who murdered over 4 million Arabs in wars in the Middle East – how can Iran's Supreme Leader talk about the rights of Palestinians if he can't keep the rights of Iranians?
As for Turkey, Erdogan is trying hard to stay relevant in the Middle East and that's why he is making noises. He doesn't care for Palestinians; Erdogan uses them and that is the saddest part. Israel cares for Palestinians more than Iran and Turkey altogether.
Could the UAE-Isreal Peace agreement freeze the annexation of Palestinian lands?
Hananya Naftali said that: As an Israeli, he supports finding a solution that will be acceptable by both Palestinians and Israelis. They can't ignore the fact that Palestinians are our neighbours, but they also can't ignore the fact that Jews have the right to live in Israel.
Hananya Naftali added, Right now, the problem is not how to solve this conflict but how to make Palestinian leaders come to talk about this. They would rather fly 12 hours to New York to say that they want peace, instead of driving 20 minutes from Ramallah to Jerusalem and negotiate peace.
After the historical agreement between the UAE and Israel, can the issue of the Palestinians return to the negotiating table again between the Israeli and Palestinian sides?
Hananya Naftali said that: he has Palestinian friends who are telling him that no one wants to come but only think of how to leave – all because of the Palestinian leaders that are corrupt and misuse foreign funds given to help the Palestinian people. It breaks his heart that they don't help their people.
Hananya Naftali added, Israelis believe in talking and making peace, but in order to talk – they need a partner that will agree to talk. Mahmoud Abbas has refused to this day. Maybe it will change he hopes.
How does Hananya Naftali see the diplomatic exchange between Israel and the Gulf states in the coming days?
Hananya Naftali said that: He believes that this will happen in the coming months, according to sources in Israel. He hopes this will happen soon and that the Embassy's UAE flag will be proudly waved in Israel as our Embassy's flag of Israel will be waved in the UAE.
How does Hananya Naftali see the economic relations between the UAE and Israel?
Hananya Naftali said that: This peace agreement is going to make both of our economies thrive in greater ways as we have never seen before.
Hananya Naftali added, An Israeli delegation of heads of major banks in Israel will soon travel to the UAE to advance it, following an agreement that was already signed regarding this matter.
Naftali stressed that Israel is known as the start-up nation, and the UAE shares common economic values with Israel – so he believes that even the sky is not the limit, they can achieve limitless things together.
How does Hananya Naftali see the research relations between the UAE and Israel?
Hananya Naftali said that: The Israeli Minister of Health Yuli Edelstein spoke over the phone with the UAE Minister of Health Abdul Rahman Mohammed Al Owais, and the two agreed to work together and lead research on Coronavirus.
It would be symbolic if together, our countries will bless the world with a solution to Coronavirus – a fruit of peace.
What does Hananya Naftali expect about the Arab countries that will follow the example of the UAE towards closer relations with Israel?
Hananya Naftali said that: I expect more Arab countries to follow the brave step of the UAE, Egypt, and Jordan.
Hananya Naftali added, The days Arabs and Israelis were enemies are over. They are entering a new era of friendship and peace in the Middle East with economic ties and counter-terrorism.
Arab leaders know that Israel is not the problem but rather an ally.
Hananya Naftali stressed that, According to reports, They can expect Bahrain, Oman, and perhaps Saudi Arabia, to normalize relations with Israel in the future. Together, we are building a greater Middle East – and he believes that the wise Arab leaders of the Middle East want to be a part of this.