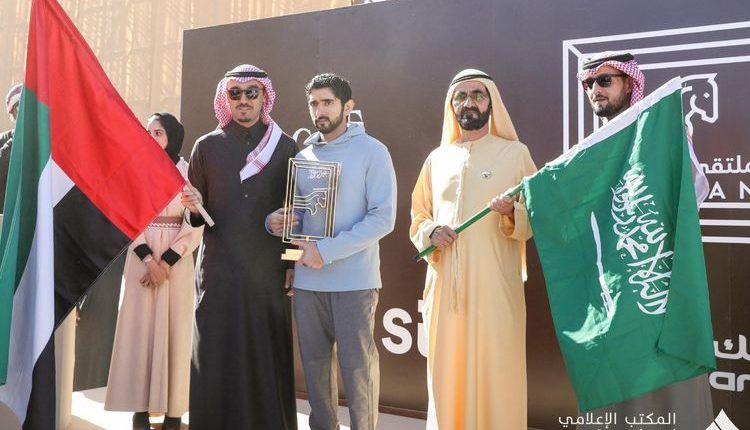 Hamdan wins Custodian Holy Mosques Endurance Cup in Saudi
Custodian Holy Mosques Endurance Cup in Saudi or Green colours sporting royal of Saudi Arabia, which both Shaikh Hamdan Bin Mohammad Bin Rashid Al Maktoum, Crown Prince of Dubai, as it's his passion and determination Crown Prince won Dh14.69m Custodian of the Two Holy Mosques Endurance Cup in Al-Ula, Province, Riyadh on Saturday.
Vice-President and Prime Minister of the UAE and Ruler of Dubai Sheikh Mohammed Bin Rashid was also in the Cup and cheered his son for the victory and the medal at World Equestrian Games in France, Shaikh Hamdan was cheered to victory.
Sheikh Hamdan was cheered by crowed and he gave a short speech by dedicating the victory to the Saudi people in a display of Saudi-Emirati unity, Hamdan said: "I'm proud to represent Saudi Arabia."
Sheikh Hamdan added by saying his trip last year to Al-Ula "I promised to come back because the Al-Ula Province is breathtaking. I was fascinated by the beauty It made me think like 1,000 years ago".
In the end his highness Crown Prince expressed his love for horses by saying "They are my life ".  The difference between car and horse is too much, I ride my cars I feel bored. With horses its different.