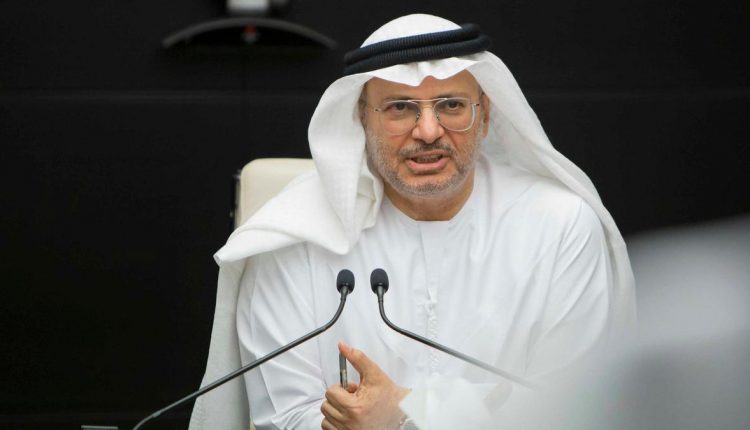 In order to strengthen coordination, the Gulf-India ministerial meeting convened
The ministerial meeting between the Gulf Cooperation Council countries and the Republic of India was chaired by the UAE today.
The meeting, conducted via videoconference, discussed ways of improving ties and of exchanging views on foreign and regional files of mutual interest.
Gulf and India cooperation
The Minister of State for Foreign Affairs, Anwar bin Mohammed Gargash, discussed joint cooperation in various fields , in particular on the economic front, as well as collaboration to counter emerging threats, such as coping effectively with the COVID-19 pandemic.
Both participants decided on the necessity of coordinated measures to stem the pandemic.
Additionally, Dr. Gargash stressed India's position in the international community, India's historical significance to the countries of the region, its commercial and social ties, the scope of its Gulf-Indian relations, and the importance of deepening them in a variety of ways: finance, trade , tourism, cultural, education , science and industrial research, artificial intelligence.
He explained that the countries of the UAE and GCC are keen on "more collaboration and interaction in different areas and at all levels."
He also spoke of the opportunities for improving Gulf-Indian fiscal, commercial and investment collaboration by joint ventures in the light of an ambitious view of the doubling of trade exchanges following the signing of the upcoming free trade agreement between the two countries.
He observed that trade rose from US$ 13 billion in 2001 to about US$ 109 billion in 2018.
India collaborates well with the gulf countries
He also emphasized the mutual intention to strengthen collaboration and collaboration in order to pursue shared goals between the GCC countries and the Republic of India. He added that the GCC countries see India as an significant partner for fostering international peace and stability, in particular in conflict zones.
The Dr. Gargash praised Subrahmanyam Jaishankar, Minister of Foreign Affairs of the Republic of India, for his efforts to improve ties with the Gulf Cooperation Council, which welcomes Indian support for the GCC's efforts to mitigate tensions in the region, his support for peaceful solutions, his constructive approach towards the Abraham Accords and his support for peace, coexistence and prosperity.
Jaishankar, for his part, described relations between India and the GCC as being at their best. He also expressed his appreciation to the GCC countries during the COVID-19 pandemic for their treatment and assistance for the Indian populations.
Both participants accepted that the post-COVID-19 period requires "our solidarity to strengthen peace and security by reducing tension and, by diplomatic means, addressing divisive problems."
The ministerial meeting also addressed ways of building an environment for the region's transformation from crisis to peace, provided that the enhancement of security and the elimination of regional tensions are important factors for growth and the sharing of economic and investment opportunities.