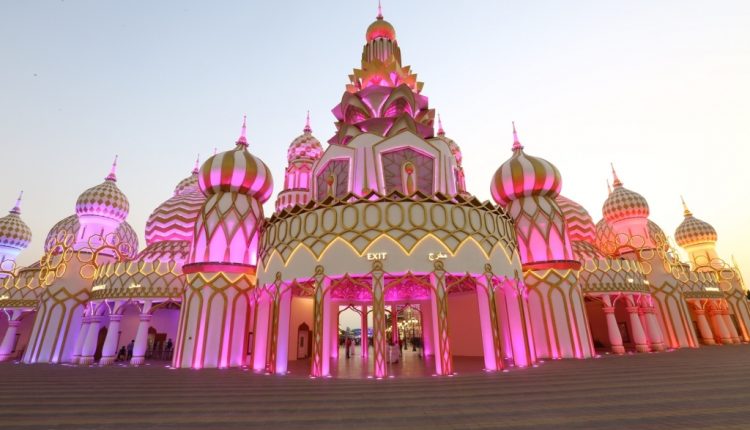 Global Village welcomes its guests to a world of wonders
On Sunday, Global Village opens its 25th season for its guests, which will last for 25 weeks, in celebration of the Silver Jubilee.
The launch of the celebrations of the silver jubilee season
The Global Village has completed all preparations for the season to offer its guests a world of masterpieces with a rich bouquet of cultural and entertainment programs in the open air to provide them with exceptional experiences and memories.
Global Village 25th season
Speaking about the start of the 25th season, Badr Anwahi, CEO of Global Village, said: "During the past months we have been keen to work continuously towards presenting an exceptional season with all standards to delight our guests. Global Village has proven over a quarter of a century its popularity among residents in the UAE and abroad and has become The preferred destination for millions of them every season We are happy to open our gates in front of our guests and the world to celebrate this occasion dear to our hearts, and we invite all Global Village fans to join us and celebrate with us. We are proud of all the efforts made by our partners, all our workers and even our guests, which played a great role in enabling us to Introduce our season and launching our programs. We are also proud of the one-team spirit that our team worked within implementing all preventive measures and precautionary measures in order to receive our guests and provide exceptional experiences for them. The twenty-fifth season is a milestone in our history and we are confident in the great impact it will leave on everyone's memory through All the experiences that we will offer our guests and the entertainment programs we have in store for them."
Global Village guests get ready for distinctive explorations
Global Village promises its guests a season full of distinctive explorations of the world's most fascinating treasures and rich cultures, which number 78 cultures represented in 26 suites, each of them sparkling with its shops that offer handicrafts. original products and unique flavours, in addition to the favourite cultural offerings of the destination's guests. The Russia, Cambodia and Vietnam pavilions are the latest additions to the season in Global Village.
Ripley's Museum success
After the huge success of the Ripley's Museum, believe it or not! In its first launch in the Middle East and North Africa region during the twenty-fourth season, the entertainment and educational destination returns again this season with a collection of the most wonderful natural, scientific, artistic and even human wonders through six unique galleries. This season's showroom "Human Oddities" is witnessing new additions, including exhibits by the artist Willard Wigan, known for his presentation of the smallest crafts and artefacts in history. The "Magic Studio" gallery also offers a new outlet with a terrifying and interesting perspective that depicts a replica of an old prison cell that brings a spirit of exploration to the spectator. This season's Wonder Maze of Mirrors also returns with new developments on special effects that will amaze guests.
A world of excitement and suspense at "Carnival"
This season, the Carnival theme park boasts many exciting and interesting rides and experiences that will amaze guests. The area dedicated to tours and entertainment games in Global Village during the 25th season offers more than 30 exciting rides for families, children, and thrill lovers, more than 30 skill games with distinctive gifts, and more than 100 unique video games. The "Manila Mayhem" is one of the newest additions to the exciting entertainment tour, which was manufactured in Italy, and provides a complete spinning experience at a height of up to 7 meters and a speed of 30 rpm.
Taste the most delicious flavours from all continents of the world
Guests of the Global Village this season can enjoy tasting experiences of the most delicious and strangest foods and dishes from all over the world spread in all the streets of the destination. The destination hosts 19 restaurants and four cafes for guests to choose from, with new cuisines being introduced this season from Georgia, Syria, America and South Africa. Lovers of popular international meals will also have new experiences offered by more than 170 food stalls and carts, making Global Village the most diverse destination with international flavours in the region.
A world of entertainment masterpieces
Global Village has always starred in its entertainment programs and stage shows in front of millions of guests. Season 25 is nothing short of that, but rather offers new and exceptional experiences that will leave the most beautiful memories for all ages. Destination guests can enjoy watching the newest theatrical performances produced by the entertainment team at Global Village while sitting on the new seats that have been added in front of the main stage. This season's schedule includes the "latest trends" by the Urban Crew team, featuring the most intense acrobatic moves, flips and spectacular tricks.
Global Village welcomes its guests in the twenty-fifth season for a longer time on Saturdays. It opens its doors for the first time from two in the afternoon until eleven in the evening. From Sunday to Wednesday from four in the afternoon until midnight, and entry gates close at 11:30 pm. On Thursdays, Fridays and public holidays from 4 pm to 1 am, and entry gates close at 12:30 am. Global Village is designated Mondays for the entry of families and women only, except for public holidays.