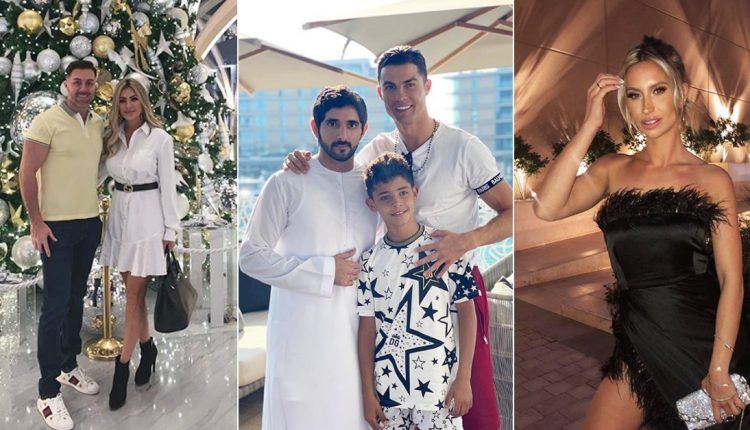 Global stars Spotted in UAE as we getting ready for New Year Eve
A lot of celebrities have been expending their holidays in the UAE; with Cristiano Ronaldo, Novak Djokovic, Maisa Silva and many more all sharing snaps from their holidays in Dubai and Abu Dhabi with fans and family.
From the overwhelming hospitality to the captivating mix of cultures and breathtaking views of the gulf, the UAE continues to lure in the A-listers. Global stars visit Dubai for many reasons. Sports personalities, actors and singers come to Dubai for performances, attending corporate events, work-related activities, official businesses or even vacations.
We will uncover 21 most famous faces celebrities spotted in UAE this week:
1.    Maisa Silva
The super famous Brazilian child star turned actress and YouTuber.
2.     Karim Benzema
The Real Madrid star dined at Nusr-Et and went jet skiing while in Dubai this week.
3.     Cristiano Ronaldo
The football star spent time with Sheikh Hamdan bin Mohammed, the Crown Prince of Dubai.
4.     Novak Djokovic
The tennis star also spent a lot of time in the UAE this month, and also hung out with Sheikh Hamdan.
5.     Joao Felix
The 20-year-old Portuguese footballer.
6.     Mario Gotze
Famous German footballer Mario Gotze.
7.     Najwa Shihab 
The major Indonesian talk show host.
8.     Alan Pulido
The Mexican professional.
9.     Zakaria Aboukhlal 
The Dutch footballer.
10.  Chris Mies
The German GT3 racing driver.
11.  Haidar Juma
The Swedish TV star and DJ.
12.  Baddy Oosha
The Nigerian.
13.  Julian Weigel
The German football player.
14.  Victoria Swarovski
The singer and heir to the Swarovski crystal fortune.
15.  Sara Gama
The Italian national team footballer.
16.  Shrenu Parikh
The Indian TV actress.
17.  Rihana Oksana Petra
The Russian beauty pageant.
18.  Nathaniel Buzolic 
The Australian actor.
19.  Luka Modric 
The Croatian footballer.
20.  Milos Degene
Socceroo Milos Degenek.
21. Juan Jesus
Brazilian footballer.