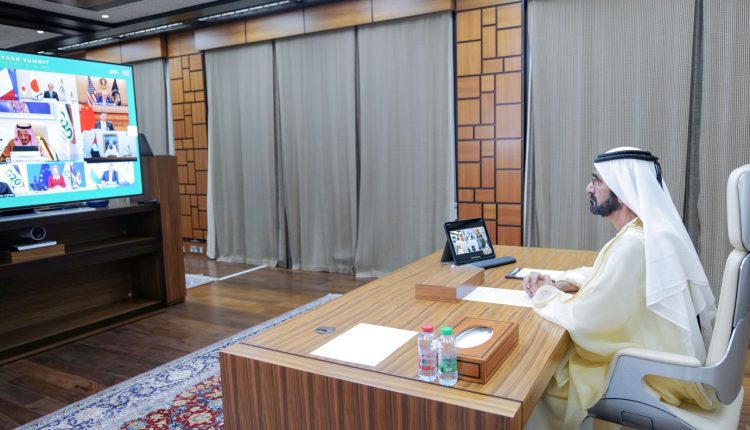 The G20 leaders summit praises teamwork in confronting COVID-19
Vice President and Prime Minister and Ruler of Dubai, His Highness Sheikh Mohammed bin Rashid Al Maktoum, took part in the virtual G20 leaders summit, which was held today under the chairmanship of King of the Kingdom of Saudi Arabia, the Custodian of the Two Holy Mosques King Salman bin Abdulaziz Al Saud, under the slogan "Seizing the opportunities of the twenty-first century for all".
The UAE participation in the G20 leaders summit
The United Arab Emirates participation in this second extraordinary summit in its capacity as Chairman of the current session of the Cooperation Council for the Arab States of the Gulf comes to coordinate joint efforts and intensifying international cooperation to combat the pandemic and limit its humanitarian, health and economic effects on peoples and countries around the world.
The UAE praises the G20 leaders summit initiatives
His Highness affirmed the G20 summit is the largest global economic platform around which the world unites to address common challenges and overcome them and that the UAE will continue to support all the international initiatives and all policies and projects.
His Highness said: The coronavirus pandemic that the world is facing highlighted the role of G20 as an economic platform to confront and overcome common challenges, and through which it discusses methods to seize the most important opportunities available to countries and governments and benefit from them for a better future for peoples and the world.
UAE effective role in responding to the epidemic
His Highness affirmed the UAE has been keen since the beginning of the epidemic, and under the directives of President of the State, His Highness Sheikh Khalifa bin Zayed Al Nahyan, to play an effective and main role in supporting international efforts to address the epidemic and to contribute to various aspects of international cooperation and coordination to deal with the virus. In order to establish emergency and effective mechanisms and solutions to the crisis that the world is experiencing in all its countries alike, the risks are not limited to the health sector only but extend to the economic and societal aspect.
His Highness Sheikh Mohammed bin Rashid Al Maktoum confirmed the importance of collective action and international cooperation to get out of this crisis as quickly as possible and with minimal losses, and to achieve the required growth and recovery in Various sectors, and addressing any health, economic or social repercussions of the crisis.