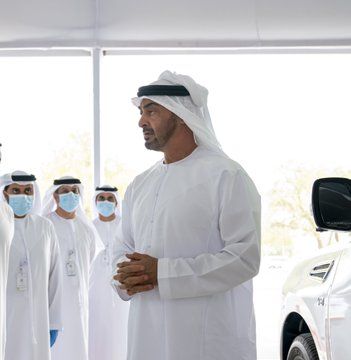 Free COVID-19 Test for all the citizens in the UAE
The UAE has proven itself to be one of the most efficient countries in the world in dealing with the Coronavirus crisis. Thanks to the wise leadership of Sheikh Mohamed bin Zayed, whose decisions have helped immensely in tackling the virus and limiting its spread the coronavirus in the country.
The most important decision of His Highness Sheikh Mohamed bin Zayed to conduct a free COVID-19 test for all citizens of the country.
Free COVID-19 Tests in the UAE
It has been mentioned in the paragraph above that HH Sheikh Mohamed has decided to conduct free tests for citizens. Kindly go back and include that it is for citizens as well as workers.
Under the directives of Sheikh Mohamed, as part of the country's precautionary measures, the social categories to be tested for free are: persons with special needs, pregnant women, residents over the age of 50 years, and those who have chronic diseases.
His Highness also ordered the examination of people who suffer from any symptoms of the coronavirus or who were in direct contact With coronavirus patients.
This positive decision will contribute significantly to stopping the spread of the Coronavirus and aims at the health and safety of members of society.
It also proves that the welfare and safety of citizens and residents in the UAE is a priority for our rational leadership.
Free COVID-19 Test center of the car is the first in the Gulf
Today, I visited the mobile COVID-19 Test Center set up by SEHA as part of measures to contain the virus. Medical teams out in the field are the first line of protection of the UAE, their sacrifices safeguard our health. pic.twitter.com/nrO0iCFr8t

— محمد بن زايد (@MohamedBinZayed) March 28, 2020
The UAE has launched a dedicated center for people to get tested for COVID-19. Drive-through COVID-19 test centers were first launched across Abu Dhabi. It is the first of its kind in the Gulf region, where the number of infections reached more than 3,000 people.
The center "provided safe scanning within 5 minutes through the latest scanners, and qualified medical staff" to provide its services to "about six hundred people per day, within 12 working hours.
Priority will be given to those who have symptoms, such as the elderly, pregnant women, and those with chronic diseases.
Source: arabianbusiness