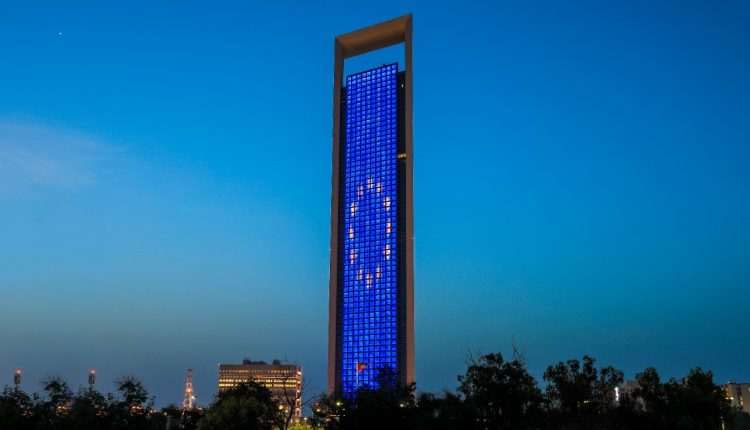 FNC, UAE-EU Parliamentary Friendship Community to discuss mutual partnership
The Federal National Council Secretariat-General, FNC, held a simulated conference at the European Parliament, EP, with the UAE-EU Parliamentary Friendship Community to discuss processes for collaboration and communication between the two sides.
The two sides have discussed means of reinforcing relations. Between the European Parliament and the Gulf Cooperation Council (GCC) legislative councils in the light of the resolution issued by the 13th meeting of the GCC parliaments on 21 July 2020 authorising the FNC to organise the meetings between the GCC parliaments and the EP and other GCC-European parliamentary committees with the EP.
FNC Secretary General alongside other officials
The conference, which brought together FNC Secretary-General Omar Al Nuaimi and President Antonio Lopez-Isturiz White of the European Parliament's UAE-EU Parliamentary Friendship Community. They discussed ways of arranging joint meetings. To improve GCC-EU collaboration on regional and international topics of mutual concern. As well as climate change and sustainable and renewable energy expert meetings.
Omar Al Nuaimi said the planned meetings and seminars on political, economic, sustainability and environmental and social issues had been decided by the two sides.
Via simulated meetings and parliamentary visits. Antonio White expressed his willingness to improve links with the FNC and to share experience. As well as to establish links between the various Gulf legislative councils and the European Parliament.
FNC meeting follows great steps
Earlier this week, in a video call on Wednesday, the Ministers of Energy of the UAE and Israel explored future collaboration and investment prospects. Including exports of natural gas to Europe, an Israeli statement also said.
On Sept. 15, Israel and the UAE signed an agreement to create diplomatic relations. An arrangement that Energy Minister Yuval Steinitz said in the declaration provided a "historical potential" for the region's energy growth.
A charter creating the East Mediterranean Gas Forum (EMGF) was signed on Tuesday. This was by Egypt , Israel, Greece, Cyprus, Italy and Jordan. It also seems that the whole middle east is going for an era full of hope.