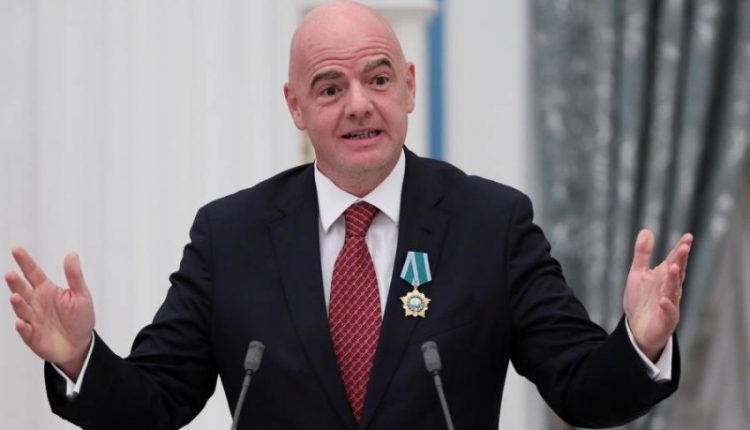 Fifa president Infantino will give a speech at Dubai Sports Conference
At Sunday's Dubai International Sports Summit, which will also include Cristiano Ronaldo, Spain and Real Madrid goalkeeping hero Iker Casillas, and Bayern Munich hitman Robert Lewandowski, FIFA President Gianni Infantino will give the keynote address.
The presence of Infantino is an honor to all of the UAE
This year's Dubai International Sports Conference, the Mohammed bin Rashid Al Maktoum Global Initiative, will be held on December 27 at the Armani Hotel in Burj Khalifa under the theme 'Football at the Top'.
Organized under the patronage of the Chairman of the Dubai Sports Council, Sheikh Mansoor bin Mohammed bin Rashid Al Maktoum, the conference has been taking together top football stakeholders since 2006 for detailed discussions on how to improve and enrich sport at the global, regional and international levels.
Not the first time for the FIFA president in Dubai
Since his first appearance in 2011, when he addressed the conference as Secretary General of the Federation of European Football Associations. Infantino has been a frequent guest at the Dubai International Sports Conference and has spoken in six previous editions (UEFA).
As a candidate for the presidency of the International Football Federation in 2016. He also participated in the conference and used the forum to discuss his manifesto. As well as his vision and proposals for international football growth.
Since 2016, barring last year, Infantino has returned to the Conference every year. But this year he will be back as Chief Guest. His keynote address will reflect on the role football plays in fostering unity around the world. As well as ideals such as harmony, inclusiveness and inclusion, and bringing diverse people together.
On behalf of the Dubai Sports Council, Sheikh Mansoor invited the President of FIFA to speak at a conference organized annually by the Council as a global forum for the advancement of football in the country, the region and the world.
The acceptance of the invitation by Infantino confirms the strong friendship between FIFA and the Dubai Sports Council. It also shows the recognition of the conference by Infantino and its role in the growth of world football.
The three players, Ronaldo, Casillas and Lewandowski, will take the stage after Infantino's keynote. They will talk about their respective paths to the pinnacle of their glittering careers. Lewandowski and Casillas, though Ronaldo has been a regular guest, will make their first appearance at the meeting.