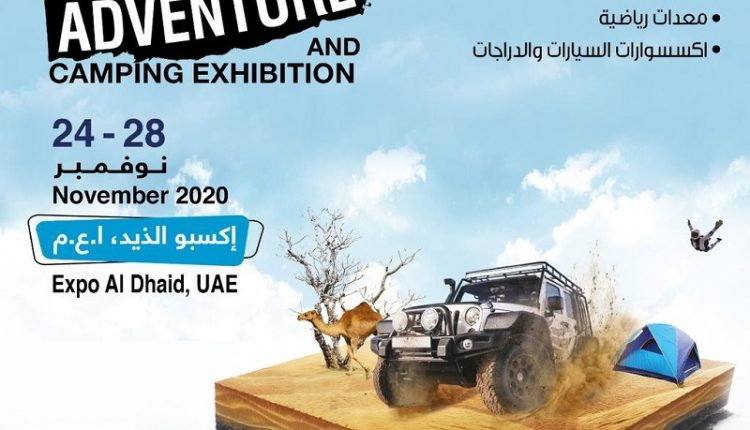 Expo Al Dhaid Center will host the second edition of the "Camping and Adventure Expo 2020" from 24 to 28 November, which is organized with the support of the Sharjah Chamber of Commerce and Industry and under the supervision of the Sharjah Expo Center.
The exhibition at Expo Al Dhaid Center
The participation of local companies in Expo Al Dhaid Center
Expo Al Dhaid Center will witness the participation of a large variety of local companies specializing in camping, trekking, road trips, freedom, hunting, and shooting equipment and supplies. The exhibition at Expo Al Dhaid Center offers its visitors a wide range of the best and latest products and supplies for tourism trips and camping, including tents and hair houses, besides a display of the latest types of motorcycles, quad bikes, land and sea fishing, diving equipment, supplies, photography equipment, cameras, and night lighting devices.
Expo Center keens on organizing exhibitions
CEO of Expo Center Sharjah, His Excellency Saif Mohammed Al Mifa, confirmed that the center is keen on organizing distinguished exhibitions and events in the central and eastern regions of the Emirate of Sharjah permanently to contribute to enhancing the business environment in various economic fields. Stressing that the success achieved by the Camping and Adventure exhibition in its first edition, whether in terms of wide participation by exhibiting companies or through its ability to attract many visitors confirms the status of this event and its ability to provide a supportive environment. For entrepreneurs who work by creating an annual platform for exhibitors and participants to promote their products and open new marketing opportunities for them. And close communication with companies interested in everything related to camping trips, wildlife, and marine life.
Al Midfa pointed out that preparations for hosting the exhibition at Expo Al Dhaid Center are carried out according to the highest requirements and precautionary measures to ensure the safety of employees, visitors, and exhibitors, also calling on the public to visit this event to take advantage of the distinct opportunities that will provide a wide range of the latest goods and products for camping and tourism trips at competitive prices.