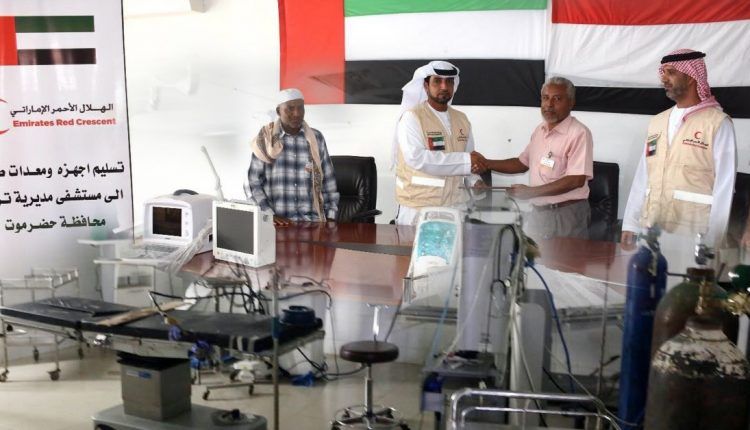 The UAE's offering or donation to Yemen's health sector, since the start of the year, has been noteworthy and tangible, the Emirates Red Crescent (ERC), stated in its latest report, underlining health projects, programmes and drives started during the 'Year of Tolerance'.
ERC's mid-year report stated that the benefaction included the reconstruction of hospitals and health centers, the launch of programmes to fight diseases and epidemics, offering training to medical personnel and covering the cost of treating patients outside Yemen.
The 'Year of Tolerance' started with the arrival of a shipment of medicines weighing 25 tonnes at Aden Port, which were allotted to the health centers on the Red Sea coast, as well as the start of the Economy and Political Science College Medical Clinic.
The UAE has reinstated, since the start of 2019, 23 hospitals and health centers in Yemen's liberated governorates, which include six hospitals in Taiz and Hadramaut, 11 health centers in the Red Sea Coast and Hadramaut, two specialist units in Aden and Socotra, and four clinics on the Red Sea Coast and Aden.
In terms of health care operations, the UAE offered much needed medicinal supplies and medical equipment, like nine containers carrying important medicines were delivered to the Yemeni Ministry of Public Health and Population.
The report stated that these humanitarian endeavors are a understanding of the UAE's message and humanitarian attitude towards the Yemeni people, and have helped restart Yemen's medical sector, which faced systematic destruction by the Iranian-backed Houthi rebels.
On the Red Sea coast, the UAE has started seven medical centers, including the Al Matina Centre in Al Tahita and a health centre in Al Shujaira.