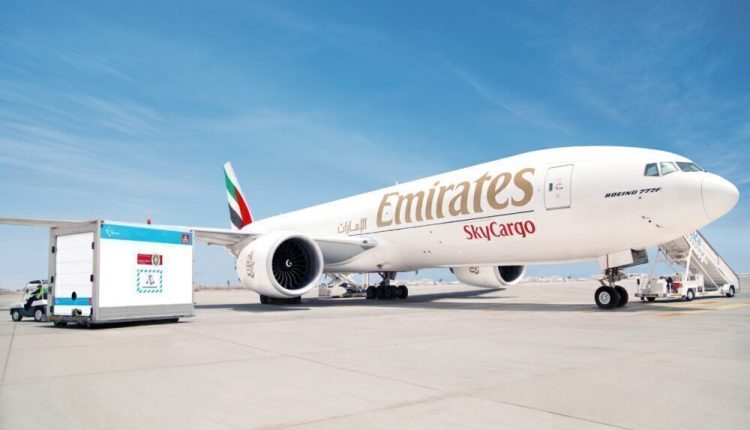 Emirates SkyCargo provides the Dubai Health Authority COVID-19 vaccines
Emirates SkyCargo has accomplished another landmark by travelling for the first time to the Dubai Health Authority for COVID-19 vaccines produced by Pfizer-BioNTech in the UAE (DHA).
The vaccinations were transported on Emirates flight EK 182 from Brussels on 22 December 2020, arriving at 22.15 local time at Dubai International Airport (DXB).
Covid-19 Vaccines will go for free in the UAE
Nabil Sultan, Senior Vice President of the Emirates Group, Freight, said, "At Emirates SkyCargo we are also doing our part to join Dubai's efforts to fight the COVID-19 pandemic. 
Upon arrival at DXB, the vaccine containers were out of the aircraft on a priority basis. Then they went to the dedicated Emirates SkyPharma pharmaceutical facility of Emirates SkyCargo to await clearance for delivery.
The shipment of vaccines and other temperature-sensitive prescription cargo is no stranger to Emirates SkyCargo. With over two decades of experience in transporting pharmaceuticals on its aircraft. The carrier has developed state-of-the-art EU GDP accredited facilities in Dubai dedicated to the storage and handling of pharmaceutical cargo. A global Pharma Corridors program has also been under development by Emirates SkyCargo. Partnering with ground handlers and local airports at major pharmaceutical origin and destination stations for improved cold chain security. About 30 cities around the globe, including Brussels, are getting vaccines by the new pharma network.
More recently, in Dubai, Emirates SkyCargo has also set up the world's largest dedicated airside storage and delivery center for COVID-19 vaccines with the potential to store up to an estimated 10 million doses of vaccine at any given time in the 2-8C temperature range. Emirates SkyCargo will easily and safely transport COVID-19 vaccines from production locations to destinations across six continents. This is with its sophisticated facilities, comprehensive network and new all-wide-body aircraft fleet. Distribution of COVID-19 vaccines from a number of suppliers and geographies has already started with Emirates SkyCargo.