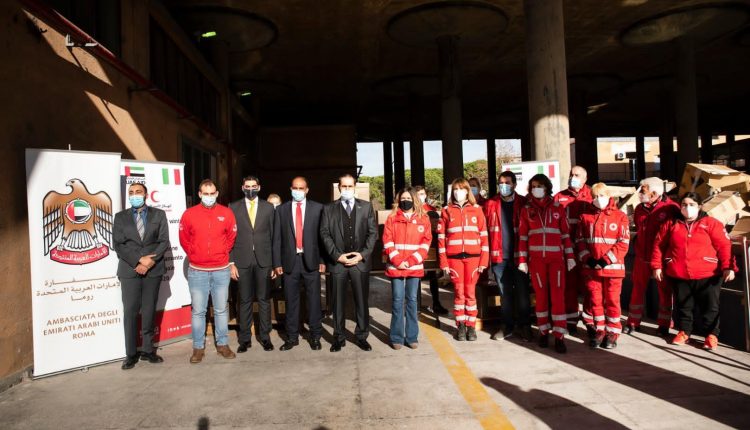 Emirates Red Crescent provides aid to those affected by weather in Italy
Under the directives of Ruler's Representative in Al Dhafra Region and Chairman of the Emirates Red Crescent Authority, His Highness Sheikh Hamdan bin Zayed Al Nahyan, the UAE embassy in Rome began providing winter aid and assistance to needy families and vulnerable groups in Italy, the republics of San Marino and North Macedonia, which benefit 15,000 people in the three countries, as the Authority has implemented winter aid program for those affected by the repercussions of cold and winter in 25 countries around the world.
Emirates Red Crescent Assistances
This assistance was coordinated between the country's embassy in Rome, the Emirates Red Crescent Authority, the Italian Red Cross Society, civil defense organizations, official bodies, and non-profit associations.
The embassy, in cooperation with those local authorities, worked to develop a distribution plan covering all targeted areas, so that this aid could reach the neediest families, and include all spectrums of the community fabric in these countries.
Secretary-General of the Emirates Red Crescent Authority, His Excellency Dr. Mohammad Ateeq Al Falahi confirmed that the winter aid program, which is implemented under the guidance and follow-up of His Highness Sheikh Hamdan bin Zayed Al Nahyan, aims to provide aids for the needs of those affected by the cold and enhance their ability to cope with the repercussions of low temperatures and weather fluctuations, and poor weather in winter.
Emirates Red Crescent strengthened winter aid
Al Falahi added that the authority has strengthened its winter aid this year in relation to the health conditions that the world is currently facing because of the COVID-19 pandemic. He also praised the spirit of cooperation existing between the authority and the country's embassies abroad, to strengthen the UAE's aid to brotherly and friendly peoples, appreciating the role of the state's embassy in Rome in expanding the umbrella of the beneficiaries of winter aid in Italy, North Macedonia and San Marino, and promoting the UAE Red Crescent's humanitarian and development initiatives in those countries.
His Excellency Omar Obaid Mohammed Al Hassan Al Shamsi, the country's ambassador to the Italian Republic, the non-resident ambassador to both the Republic of San Marino and the Republic of North Macedonia, praised the generous initiative of His Highness Sheikh Hamdan bin Zayed Al Nahyan, which reflects the feelings of brotherhood and solidarity between the leadership and the people of the UAE and all over the world.
The country's ambassador pointed out that these initiatives resulted in great solidarity between the Emirati people and the peoples of the world, through letters of gratitude that the country's embassy in Rome continuously received and among the most important officials and politicians in those countries, mayors of cities, and ordinary citizens.