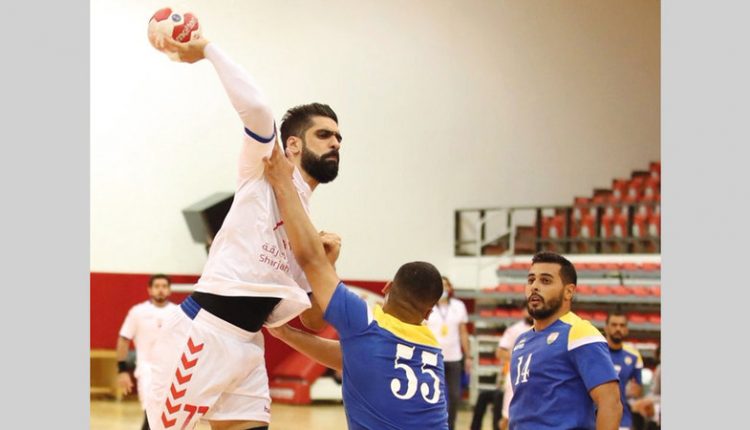 Sharjah defeated Al Dhafra by 21 goals in the "Hand Cup"
Sharjah Handball beat its guest Al Dhafra, and beat it by 21 goals "37-16", in the Hand Cup match that brought them together the day before yesterday, in the opening of the second rounds of the Emirates Hand Cup groups tournament, the first of the new season 2020-2021 competitions for the men's stage.
Sharjah strengthened its lead for Group B teams, with six points, three points behind Al-Nasr, while Al Dhafra remained third by two points, one point ahead of Dibba Al-Hisn in fourth place.
The Emirates Hand Cup tour
The tour will be continued tomorrow and the day after tomorrow, as Al Nasr will meet Dibba Al Hisn at the Sharjah Club hall, to be followed on Saturday, with the first group meeting, as Al Ain meets Bani Yas at the Al Jazeera hall, and Al Wahda with Al Jazeera will meet at the Baniyas Hall, so that the curtain falls on the tour. With a single meeting for the third group, Al-Wasl brings together Maliha at the Al-Ahly youth lounge.
Sharjah handball introduces its new coach Hany El-Fakharany
On Sunday, Sharjah Club presented its new coach, Hany El-Fakharany, to begin his mission in the technical leadership of the men's handball team for the 2020-2021 Hand Cup sports season.
Sharjah also contracted with Mahmoud Fayez, the wing of the Egyptian handball team and the Egyptian Al-Ahly Club, to support the ranks of the Sharjah men's handball team, in preparation for its registration in the category of the nation's born.
El-Fakharany team participates in the Emirates Hand Cup
Hany El-Fakharany and Fayez signed the contracts to join Sharjah in the presence of Ali Salim Al-Midfa, Chairman of the Sharjah Sports Club, and Muhammad Obaid Al-Hussan, a member of the Sharjah Club Board of Directors, and Chairman of the Group Games Department.
After the signing, Hany El-Fakharany, the former general coach of the Egyptian national team, expressed his happiness for a new experience with Sharjah Club.
For his part, Fayez, who recently joined the Sharjah Men's Handball Brigade, expressed his happiness to be with a team that carries the character of a hero, such as Sharjah Club, and stressed his great passion to present a level befitting the ambitions of the Sharjah sports club and its fans.