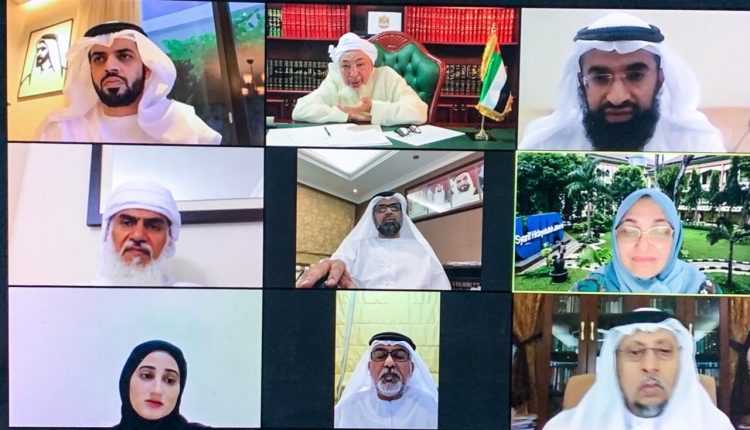 Emirates Fatwa Council confirms the terrorism of Brotherhood organization
The Emirates Fatwa Council affirmed that its position on the sects, groups, and organizations is the position of the rulers of the matter in the country and that every group or organization that seeks sedition or practices violence or incites it is a terrorist organization.
The Emirates Fatwa Council Meeting
This came during the periodic meeting of the Emirates Fatwa Council today, through video communication headed by His Excellency Sheikh Abdullah bin Bayyah, during which he reviewed the statement of the Council of Senior Scholars in the Kingdom of Saudi Arabia, which shows the great position that Sharia attaches to unity and warns against the division and outgoing teams.
The Council announced its support for the statement of the Council of Senior Scholars, which confirms the statement issued by the government of the United Arab Emirates and the government of the Kingdom of Saudi Arabia regarding the Muslim Brotherhood as a terrorist organization, because of what is known about this group as a conflict of rulers and splitting the stick of obedience and what emerged from its cloak of extremism and violence groups.
The President and members of the Council raised the highest verses of congratulations to President of the State, His Highness Sheikh Khalifa bin Zayed Al Nahyan, Vice President and Prime Minister and Ruler of Dubai, His Highness Sheikh Mohammed bin Rashid Al Maktoum, and Crown Prince of Abu Dhabi and Deputy Supreme Commander of the Forces The Armed Forces, His Highness Sheikh Mohammed bin Zayed Al Nahyan, and Their Highnesses, members of the Supreme Council, Rulers of the Emirates, on the occasion of the 49th National Day of the state.
The Emirates Fatwa Council Discussions
The Council called on all Muslims to reject division and to refrain from affiliation or sympathy with such groups that work to divide the ranks and ignite discord and bloodshed. In sum, the legal evidence and the doctrine of the Sunnis and the community are to follow the rulers of the matter out of respect and commitment and not deviate from the discipline and order. Also, the council discussed several ideas and initiatives the members nominated that to be within the council's interest in the coming year.
Within the framework of activities and partnerships, the Council received an invitation to attend the seventh forum of the Forum for Promoting Peace, which is held under the slogan "The Values of the Post-COVID-19 World: Solidarity and the Spirit of the Ship Passengers" and the price of this invitation and the theme of the forum that comes in harmony and complements the conference organized by The Emirates Fatwa Council.