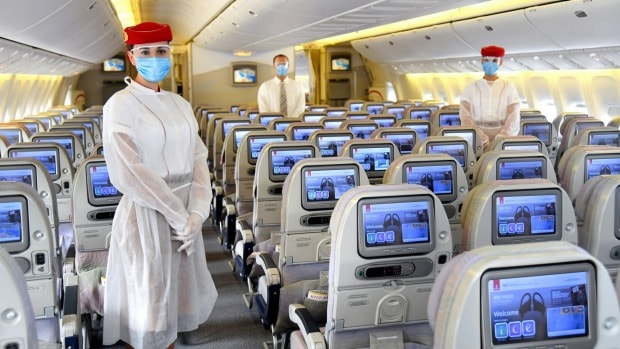 Emirates Airlines pioneering standards for passenger safety
Emirates Airlines pioneering standards to ensure passenger safety as its operations begin to resume. It unveiled several additional measures that would establish innovative health and safety standards at the industry level, both in the air and on the ground.
The airline has started implementing these procedures, which aim to protect employees and passengers in every stage of travel, with today's resuming the operation of regular flights to 9 destinations.
The chances of catching an infection on the plane are very low," said Adel Al Reda, Chief Operating Officer of Emirates Airlines. However, we spare no effort in reviewing and redesigning each stage, from completing travel procedures on counters to disembarking passengers from the plane at the destination. Every measure that we apply contributes to further reducing risks because our goal is to enhance the safety of travel and make it extremely safe ".
"We will continue to review procedures and seek the advice of experts before adopting any development or change. As the pandemic continues, we are fully aware and aware." We need to adapt to various practices in our daily activities."
Adel Al-Reda concluded his statement by saying: "All these precautions and preventive measures, in addition to the proactive strategies for pandemic management pursued by the United Arab Emirates, will show how seriously we attach to the health and safety of our local and global communities, and how it will enhance the public's confidence in air travel."
Emirates Airlines pioneering standards
Travel procedures
Passengers transit
Climb up to the plane
On the plane
Air service crews
Travel procedures
Emirates Airlines has prepared containers that contain health protection tools and are distributed free of charge to customers upon check-in at Dubai International Airport and to passengers arriving in Dubai. Each envelope contains face masks, gloves, antiseptic wipes, and sterile liquids. These sanitary envelopes are a boost to the many additional measures being implemented to maintain the health and safety of travellers.
At the airport, masks and gloves are obligatory for all employees and customers. On Emirates flights, only masks are required. When clients arrive at the airport, thermal surveillance cameras installed in several locations monitor the temperature of customers and employees. There are also signs installed on the ground in all waiting areas at the airport to guide travellers and ensure that they are physically separated at the travel checkout counters, passports, boarding gates, and flight continue areas.
The airport team also installed protective barriers on travel procedures counters and passport control counters, to provide more safety guarantees for travellers and workers during the procedures.
Passengers transit
Transit passengers will be provided with protective gear before their flights arrive at Dubai International Airport, and they will also be subjected to a thermal inspection before they land at the airport terminal. As an additional precaution, all flight counters have protective barriers installed. Airport workers, dressed in protective gear, direct customers to stay apart and stay at a safe distance from others. Sanitary packs are also available on departure portals.
Climb up to the plane
Passengers will be lifted to the aircraft in order, starting from the last row to the first and in small numbers under the supervision of Emirates Airlines personnel wearing protective equipment. Some procedures have been introduced in the waiting areas to ensure that customers remain physically separated. Departures from Dubai also use some gates equipped with biometric equipment to reduce contact with supervisors. After finishing the preparation of each flight, the gates are subject to extensive cleaning and sterilization.
On the plane
All service personnel onboard are equipped with personal protective equipment. Emirates Airline assistants returned to service crews on flights longer than 1.5 hours, in order to maintain the highest standards of safety and hygiene. This helps to clean and sanitize the bathrooms once every 45 minutes. All bathrooms are fitted with sterile cleaning fluids and hand washing.
The aircraft will not have any publications to reduce the risk of injury by touch and will provide first and business class passengers with single-use menus and drink menus. All other supplies, such as mattresses, pillows, blankets, and headphones, are sterile and wrapped as usual. Emirates Airlines will resume providing hot meals, cutlery, and sterile ceramic utensils.
It records cabin luggage for the cargo hold, and customers can take their essentials on the plane, such as laptops, handbags, and baby stuff. Each passenger needs to carry a pen to fill in the health declaration forms that some countries require upon arrival.
The stringent safety program, developed by Emirates Airlines, aims to protect its customers and employees. Its modern aircraft are also equipped with advanced HEPA air filters, which remove 99.97% of viruses, dust particles, allergens and germs from cabin air, to ensure a safe and environmentally friendly environment. Each aircraft, upon its return to Dubai after each flight, undergoes extensive cleaning and sterilization.
Air service crews
Emirates Airline staff members provide cars to transport them to the airport and return them to headquarters with the assistance at the end of each flight. The crew ends their procedures in a building designated for them in Dubai before heading to the aircraft. The carrier is also keen to reduce the need, to the extent that crew members reside at external destinations. On return to Dubai, everyone is subject to the Covid-19 examinations. Home health reservation commitment for 14 days.
Source: Wam