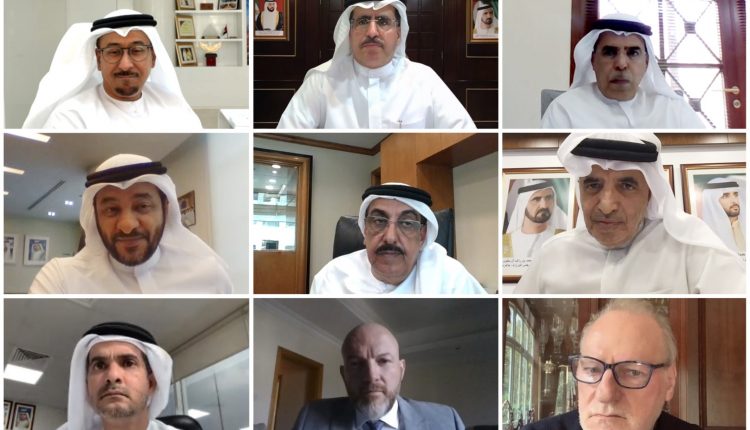 Supreme Council of Energy reviewed the effects of the global COVID-19
The Dubai Supreme Council of Energy (DSCE) reviewed the global effects of the COVID-19 on the Energy Approval System for Facilities Management, and the Local Administrative Order No. AO (1) of 2020 issued by the Council regarding the provision of energy services by major developers in the Emirate of Dubai.
Supreme Council of Energy 62nd Meeting
This came during the 62nd meeting of the Council which was held remotely chaired by His Excellency Saeed Mohammed Al Tayer, Vice President of the Supreme Council of Energy in Dubai, and in the presence of His Excellency Ahmad Buti Al Muhairbi, Secretary-General of the Council and members of the Council, Eng. Dawood Abdul Rahman Al-Hajri, Director General of Dubai Municipality, and His Excellency Abdulla Jassem bin Kalban, Managing Director and CEO For Emirates Global Aluminum, His Excellency Saif Humaid Al Falasi, CEO of ENOC Group, Engineer Walid Salman, Vice Chairman of the Dubai Nuclear Energy Committee, along with Nasser Abu Shehab, Executive Director of the Strategy and Corporate Governance Sector at the Roads and Transport Authority in Dubai, and Frederic Chemin, Director General of Dubai Petroleum Corporation.
His Excellency Saeed Mohammed Al Tayer said: In line with the vision and directives of His Highness Sheikh Mohammed bin Rashid Al Maktoum, Vice President and Prime Minister of the UAE and Ruler of Dubai in preparing for the post-COVID-19 phase and developing the government work system in the country. As the COVID-19 pandemic affects all parts of the world, the main thrust of energy in Dubai is in line with the directives of the wise leadership, which is the expansion of clean energy projects, increasing reliance on the technologies of the Fourth Industrial Revolution, and digitization, and promoting world-leading levels of infrastructure with the highest levels of reliability, efficiency, and availability. Speed up investments in disruptive technologies, advanced research and development, smart grids, energy storage, the Internet of things, artificial intelligence, energy efficiency, cybersecurity, robotics, and national capacity building.
Supreme Council of Energy Discussions
His Excellency added: We have been informed of the developments of the work of the Dubai Petroleum Regulatory Commission, which is preparing a new guidebook for issuing licenses for trading petroleum products in the Emirate of Dubai to be in line with the highest international standards in this field.
His Excellency Ahmad Buti Al Muhairbi showed that during the meeting, the Roads and Transport Authority (RTA) incentives for electric vehicle owners were reviewed, as the RTA provides electric vehicle owners to encourage sustainable green mobility for the acquisition of hybrid vehicles and electric vehicles, including several incentives, including free parking and exemption from fees, registration, renewal, and exemption from fees for issuing a Salik tag and installing an electric vehicle sticker on the number plate.