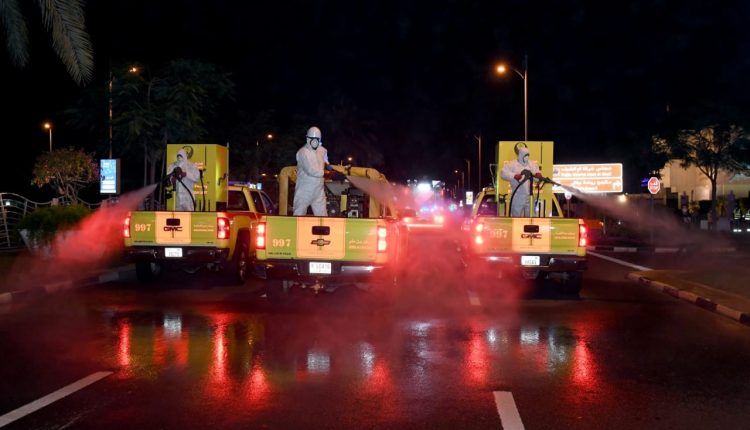 Dubai Municipality sterilizes its different districts
Dubai Municipality accomplished sterilizing 226 regions in the emirate and 129 of its sites and buildings. In cooperation with its strategic partners within the national sterilization campaign. That launched and targeting public facilities and places, using the latest devices and technologies and in accordance with international best practices followed in this field. Within the framework of untiring efforts, The UAE is making efforts to ensure the highest levels of protection for society and the prevention of the emerging coronavirus (Covid 19). As well as, part of the intensive precautions taken by the Dubai government. In addition, all its devices since the beginning of the spread of the virus around the world.
Dr. Naseem Muhammad Rafie told:
Director of Health and Safety Department in Dubai Municipality,
"186 workers from Dubai Municipality participated in sterilization operations, noting that all products used in disinfection and sterilization in the Emirate of Dubai evaluated and registered in the" Producer "system.
It contains the same active substances as those listed in the US Environmental Protection Agency (EPA) and the CBC Antibacterial Chemicals Center lists. As well as, the WHO recommended materials as active ingredients during sterilization operations.
The Aims of the sterilization efforts
The sterilization works are an embodiment of the preventive efforts aimed at ensuring the health and safety of all members of society. As the campaign began implementing sterilization work since last Thursday. So, It is taken by all state institutions and bodies to provide the highest levels of protection and prevention to community members. In addition, the Dubai Municipality continues to campaign to sterilize and purify the areas and facilities of the emirate with the latest Advanced technologies.
Effective sterilization operations
The Dubai Municipality used Drones drones in sterilization operations. Which contribute to enhancing the speed and smoothness of these operations effectively and progressively. The specialized teams use the latest vehicles and equipment for spraying and disinfection. Including Trailer spray devices that work on cars The disinfection of disinfection liquid into small particles. As well as back sprinklers that operate with hydraulic fractionation power, in addition to spray and evaporation machines. The approved disinfection products used by the municipality used and evaluated and verified their effectiveness. In addition, it recorded in a "productive" system that matches the Qualities of the World Health Organization.
Dr. Naseem Rafie pointed out that the sterilization process carried out in the Emirate of Dubai by specialists. So that safety instructions followed. The method of using the product and the ratio of dilution and mixing to ensure safe use. As well Their health and safety is a priority in the work of Dubai Municipality.