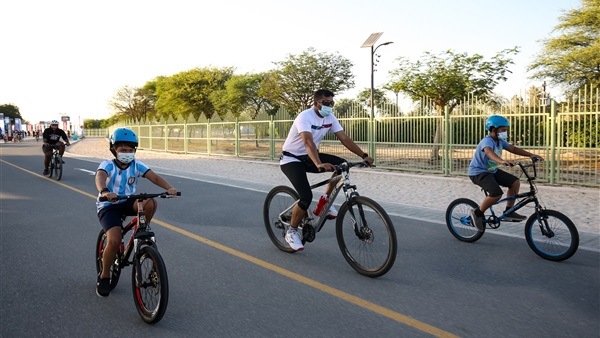 November 20 … The Dubai Cycling Challenge begins
The Dubai Cycling Challenge event will be launched on Friday, November 20, on Sheikh Zayed Road and in the middle of the most prominent Dubai landmarks such as Burj Khalifa, Dubai World Trade Center, Downtown Dubai, Business Bay and the Dubai Water Canal, as part of the "Dubai Fitness Challenge 2020" activities.
Dubai Cycling Challenge event
In a statement today, Sheikh Hamdan bin Mohamed bin Rashid Al Maktoum, Crown Prince of Dubai and Chairman of the Executive Council called on the Dubai community and the UAE, in general, to participate in this challenge, within the framework of the leadership's keenness to practice sports and organize this type of event in which all members of society can participate of all ages and at all levels of physical fitness. The goal is not a competition, but to motivate society to practice sports and make it a lifestyle, and I invite everyone to share with me this new challenge to make our society healthy active and able to give.
Dubai Cycling Challenge goals
The "Dubai Cycling Challenge" Bikers of all levels of fitness from the age of 5 years and above can participate in the first track around Sheikh Mohammed bin Rashid Boulevard. The second track is designed for cycling enthusiasts from the age of 13 and over and runs through Downtown Dubai via Business Bay, Dubai Canal and Sheikh Zayed Road.
The futsal team beats the Emirates 3/2 in the second friendly
The Futsal National Team defeated its Emirati counterpart 3/2 in the second friendly match that was held in the covered hall in Al-Bataih club in Dubai at the end of the closed camp for our national team in preparation for the Lithuania World Cup 2021.
The goals of the national team came, through Islam Scorpion, Mustafa Eid, and Mizu The Egyptian Futsal Team defeated the Emirates in the first friendly match yesterday, Tuesday, with two goals to one.
The match took place in the presence of Abdul Malik Al-Jani, Chairman of the Futsal Committee in the UAE Federation, Muhammad Abdullah, Chairman of the Municipal Council of Al-Batayh District and a member of the Club's Board of Directors, Khamis Al-Shamsi, Supervisor of the National Teams, and Ahmed Kiwan, Director of the Office of the Board of Directors and Secretariat of Al-Bataih Club.
Muhammad Abdullah, head of the Municipal Council of Al-Bataih Region, honoured Dr. Sahar Abdel-Haq, a member of the five-year committee in charge of managing the Football Association, the supervisor of futsal, and the head of the Egyptian national team mission.
The Futsal National Team is scheduled to leave the UAE tomorrow after the end of the camp.