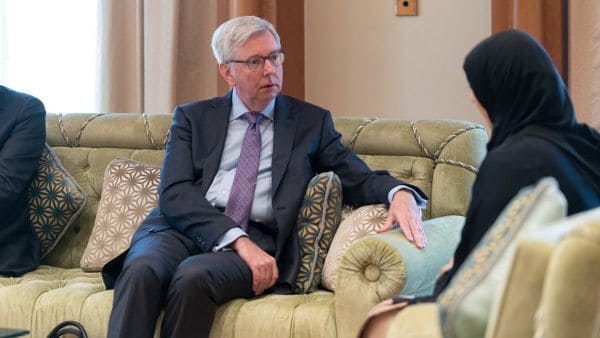 University of Cambridge visit to Abu Dhabi
CEO of Alliances for Global Sustainability, alumna of Robinson College, Cambridge and Founder Sheikha Shamma bint Sultan, recently hosted University of Cambridge Vice-Chancellor Professor Stephen J Toope and a delegation in Abu Dhabi.
Sheikha Shamma presided over talks on innovation in education, advanced research, R&D and arts and culture with a Cambridge delegation that included: St Catharine's College alumnus David Harding, Founder and CEO of Winton Group; Professor Colleen McLaughlin, Faculty of Education; Professor Rosalind Polly Blakesley, History of Art WITH THE REST OF THE TEAM.
Solution was the main topics discussed, Professor Toope, also discussed the challenge we might face in the future and how to prevent or solve it is important, she added.
Persisting and research for further education progress discussed at the highest international levels by UAE and Cambridge," noted Sheikha Shamma. How important this partnership for future solving and challenging progress. Sheikha Shamma, was very proud.
Professor Toope noted that the University's relationship with Abu Dhabi was long-established through links with Cambridge Assessment, Cambridge University Press, the Judge Business School, the Cambridge Institute for Sustainability Leadership, and the many members of the UAE's leadership who are also Cambridge alumni.