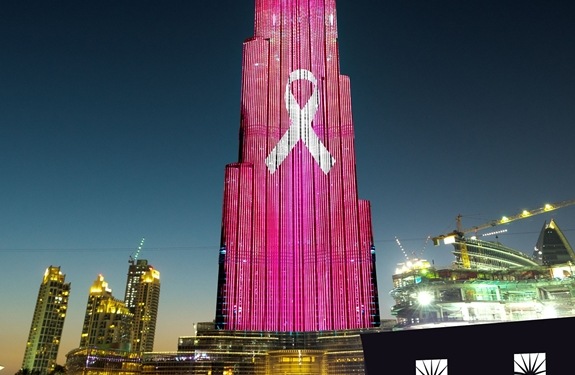 Burj Khalifa is glowing pink for Breast Cancer Awareness
A large campaign to spread the message of fighting breast cancer, through "Pink October" to combat breast cancer, and to impulse women to get early screening, the Emirates Oncology Nursing Society and the Emirates Medical Association (EMA), in cooperation with the Burjeel Cancer Institute in Burjeel Medical City in Abu Dhabi, launched a wide awareness campaign on breast cancer, which was represented by the lighting of Burj Khalifa in pink, which showed a video series that includes various tips, stresses the urgent need for early examination of breast cancer.
"Pink October" Breast Cancer Awareness Month
Breast Cancer Awareness Month, which is held all over the world in October of each year, is an opportunity to shed light on the great importance of early examination to ensure a cure for the disease, as detecting it in early stages enhances the chances of eliminating it.
The President of the Emirates Oncology Society, Dr. Hamid Al Shamsi, said: "We are pleased to launch this campaign, the largest of its kind in the world, which aims to enhance the importance of early screening for breast cancer by illuminating the Burj Khalifa, which is one of the most important landmarks of the UAE that places the importance of providing the best quality at its top priority, according to the United Arab Emirates Vision 2021."
Dr. Hamid Al Shamsi pointed out that effective control of breast cancer lies mainly in early detection of the disease, as it guarantees better opportunities for access to a wide range of treatment options.
Al Shamsi stressed the importance of breast self-examination every two months, and annual mammography. He added that, together with a clinical examination and a self-examination of the breast, a mammogram can increase the likelihood of diagnosing the disease.
Dr. Hamid Al Shamsi explained that changes in the overall size, shape, appearance of the breast, or the feeling of pain, should be noticed as dangerous and warning signs that a woman should be aware of them.
Breast cancer early detection
The most common cancer in women around the world is Breast cancer. A woman with early-stage breast cancer has a cure rate of 93% or higher. It is noteworthy that, according to the American Cancer Society, breast cancer mortality rates decreased by 40% from 1989 to 2016 among women, and this progress is attributed to improvements in early detection techniques.
Breast Cancer early detection gives treatment options
Commandment
Experts recommend that women at higher risk of breast cancer, such as women with a family history of disease or medical care, follow a regular consultation plan with their doctor. Pay attention to risk factors that may lead to disease development, such as age, weight, smoking, diet, and exercise.
Jumeirah Hotels resorts in pink
The Jumeirah Hotels resorts going pink to support Breast Cancer Awareness.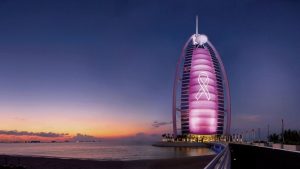 Rixos Hotels are adopting the pink color this October
In support of Breast Cancer Awareness Month, throughout October Rixos hotels will adopt the color pink, as support for the Al Jalila Foundation's #PinkOctober campaign. From pink spa treatments hosting fitness classes at Barry boot camp, hotels are teaming up to support the occasion, and 50% of their proceeds will be donated to Al Jalila Foundation, dedicated to breast cancer research.
Rixos Premium Dubai:
From its location in the heart of Jumeirah Beach Residence, Rixos Premium Dubai is doing its part to support breast cancer awareness this October. This year, the five-star hotel dedicates 50% of the proceeds from a Pretty In Pink facial and massage to the Al Jalila Foundation, as well as a Barry Camp training course that will be dressed in pink in honor of the cause.
Pretty In Pink Facial & Massage
Specially designed to suit all skin types, face and body treatments are provided with the utmost care and attention, by treating skin problems, restoring balance and providing adequate hydration as well as combating harmful environmental effects. This is followed by a rejuvenating massage of youth and energy, where the guest has the opportunity to choose from 10 world-class massage techniques, from Chinese Toy Na, Shiatsu, Swedish, Lumi Lomi from Hawaii, the Middle East, and beyond.
Bari Training Camp at Rixos Premium Dubai
The hotel has teamed up with Bari Bootcamp, which brings the well-acclaimed training to Rixos Premium Dubai Beach for its elegance and refined design to support the #PinkOctober. On October 25, the five-star hotel will host a special pink session from the famous Barry fitness classes. Participants of the course, which will be held on the Azure beach, are invited to wear rosy clothes and make their efforts in training to support the noble cause.
The package costs 200 dirhams, of which 150 dirhams will be donated to charity, and will include a Bari morning class and a sunset extension session later on that day. In between the two classes, attendees can renew their energy with a delicious lunch at Amos, the Greek restaurant, and enjoy a 25% discount on the menu, as well as a free pink mocktail "Fight Like A Girl" upon their arrival and free entry to the swimming pool and beach all day long.
Rixos The Palm Dubai Hotel & Suites:
On a 1 km stretch of pristine private beach on Palm Jumeirah, Rixos The Palm Dubai offers "Be In the Pink!", A package designed with "Therapeutic Aromatherapy Massages and Anti-Stress Facial Therapy", allocating 50% of Proceeds to Al Jalila Foundation.
The treatment is designed to help relax facial muscles, slow the appearance of wrinkles, reduce puffiness and promote skin regeneration. This facial treatment is followed by a luxurious 60-minute aromatherapy massage, in which guests inhale the scent of essential oils, helping to relieve anxiety and promote freshness and radiance.
Rixos Saadiyat Island
Rixos Saadiyat Island, the exclusive all-inclusive beachfront resort, joins the initiative to invite guests to try a "pretty in pink" facial and massage. Not only do they benefit from 10 world-class massage techniques, but they can also enjoy the amazing facilities, which are Includes indoor recreation area, swimming pool and outdoor jacuzzi, steam room, sauna, snow room and rocky waterfall with cooling vaporizer with eucalyptus milk.