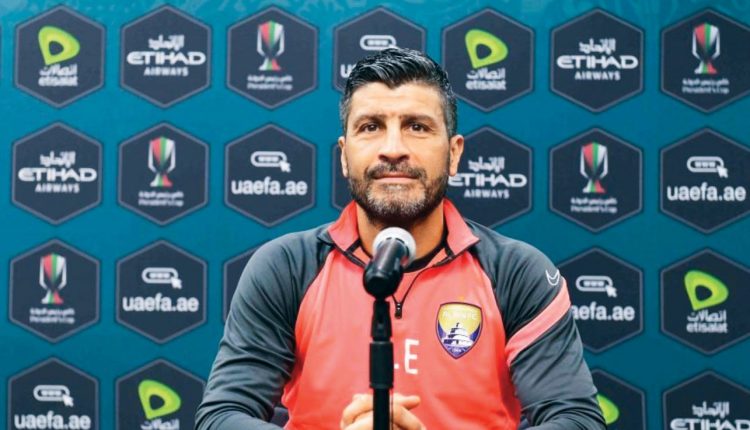 Al-Ain's Coach Pedro Emanuel: We aspire to win the precious cup
Al Ain's coach, Pedro Emanuel, confirmed that they are required to win against Ajman on Saturday at the Hazza Bin Zayed Stadium in the final price round of His Highness the President's Cup for football, to qualify for the next stage of the precious competition, which is the first step in the journey of the team that aspires to crown the precious cup.
Pedro Emanuel: our goal will be the crowning of the title
Pedro Emanuel said: We have to play hard so that we can change the image that we showed in the last match against Baniyas in the eighth round of the league, and our goal will be the crowning of the title, which forces us to show our true strength from the start, with respect to the aspirations of the Ajman team, which has an offensive line Strong, its members are characterized by speed and depend on the method of defensive organization and counterattacks, and we have to be in the required degree of readiness.
Al-Ain Coach Pedro Emanuel Solutions
Al-Ain Coach Pedro Emanuel added: We have a number of injured players, and we are trying to find solutions to this matter, and we may have recovered some absentees in the past period after assessing their health and physical condition, before making the decision to pay them in the Saturday match, because we do not want them to return to the clinic after the end of the match, especially after their recovery and completion of the treatment programs, and the most important thing for us is to maintain the concentration rate, to play strongly in our first match in this tournament and to prove to ourselves that if we play hard and play as a real team, we will overcome with our strength over any competitor.
Pedro Emanuel added: I know that the fans are unhappy after losing our last match in the league and we have to take advantage of this good opportunity after three days to show everyone that we are a strong team, and this is what I want to say to the fans, after achieving three consecutive victories, we were unable to show this in our last match and we must focus Against this competition; we appear strong and we need the support of our fans.