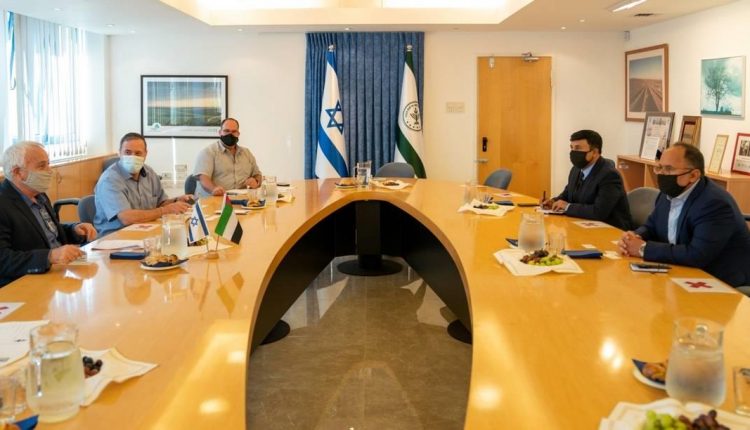 UAE delegation visits Israel to develop agriculture relations
At the invitation of Netafim, one of Israel's leading companies in the area of creative irrigation solutions and advanced agriculture, under the patronage of Israel's Ministry of Agriculture and Rural Development, an Emirati delegation headed by Khadim Abdulla Aldarei, Co-Founder and Vice Chairman of Al Dahra Holding, visited Israel.
The two sides explored ways of improving collaboration and mutual alliances in agriculture and technology during the tour, which is part of the newly concluded peace agreement between the UAE and Israel.
Cooperation in Agriculture
Alon Schuster, Israel's Minister of Agriculture and Rural Development, first visited the Emirati delegation to address available investment prospects and ways of improving their commercial and agricultural cooperation, in addition to various food security concerns.
The delegation also visited several officials at the Volcani Center, the agricultural research center of Israel's Ministry of Agriculture, and was briefed on the new technologies and developments in irrigation and agriculture.
Agriculture developments
Officials from Netafim and other companies working in the milk, automated cultivation, atmospheric water generators, post-harvest innovations, pollination strategies, hydroponics and fish breeding, fertilizers, fresh produce and olive oil sectors also met with the delegation.
At the conclusion of the tour, the two countries signed four Memorandums of Understanding (MoUs). The first was signed with Netafim to open its UAE regional office, while the second MoU was signed with Grapa Varieties to encourage copyright collaboration on new forms of fresh produce.
The MoU would generate more opportunities for cooperation between the two sides, especially in the countries in which Grapa operates.
In order to promote the start of studies on the impact of salinity on agricultural development, the third MoU was signed with the Volcani Centre.
With WaterGen, which advances innovative technology in the field of water production from the air, the Al Dahra Agriculture Company has signed a fourth MoU.