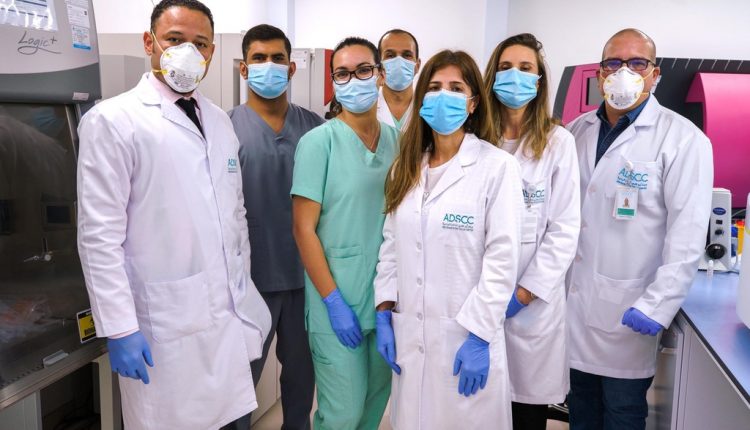 Abu Dhabi Stem Cells can treat 5,000 people infected with COVID-19
The Abu Dhabi Stem Cell Center (ADSCC) was able to treat 5,000 cases infected with the emerging COVID-19 and 4 cases suffering from leukemia through innovative treatment with stem cells, while about 584,000 laboratory Polymerase Chain Reaction (PCR) tests were performed to detect Epidemic infection.
Abu Dhabi Stem Cell Contributions
The significant increase in the number of people who received stem cell therapy for patients infected with COVID-19 came because of the diligent efforts made by the staff at the center to treat the largest number of people after the UAE government's decision to provide free treatment to all patients whose health condition ranges from moderate to severe.
This achievement for leukemia patients comes after the successful launch of bone marrow transplants at the center which is an advance for cancer patients who can now receive treatment within the country and reduce their suffering by traveling abroad to get cellular therapy and regenerative medicine to treat cancer, which is the third cause of death in UAE.
Abu Dhabi Stem Cell Therapy
The unique treatment procedure developed by the Abu Dhabi Stem Cell Center (ADSCC) includes extracting stem cells from the patient's blood, who then undergo a high dose of chemotherapy to eliminate all cancer cells and most of the bone marrow. Then the extracted stem cells are pumped into the bloodstream where they destroyed cells are returned over two weeks, the production of healthy, non-virulent blood cells will resume.
The government's decision to provide this treatment to COVID-19 patients came after the treatment, marked "UAECell19", had proven effective and safe, and this was reflected in the absence of significant changes in the reported negative complications and the absence of any unexpected serious reactions such as anaphylaxis or mild sensitivity or sudden death and the absence of any complications on the lung, according to the results of the radiological examinations after inhaling the spray.
UAECell19
UAECell19 helps the body to fight the virus and reduce the symptoms of the disease, and this treatment is based on extracting stem cells from the patient's blood and re-entering them into the lungs after they are activated by inhaling them with a fine mist.
The researchers could conclude that UAECell19 reduced the duration of hospitalization from 22 days to only six days, compared to patients who received conventional treatment, after the initial trial of treatment.
Further analyzes revealed that patients treated with stem cells recovered in less than 7 days, 3.1 times faster than those who received conventional treatment only and that 67% recovered of patients who received stem cell therapy owe this recovery to the new treatment.