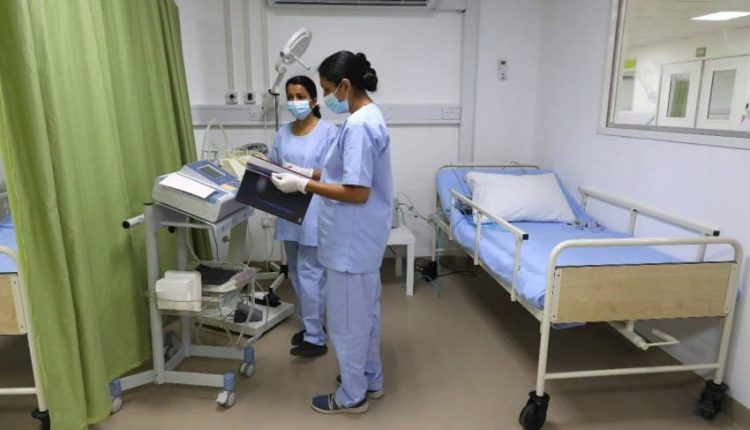 Abu Dhabi New hospital Established Within 9 days
The Committee for Emergency Management, Crises and Disasters resulting from the Corona pandemic in the Emirate of Abu Dhabi has opened the field hospital in Al Razeen, as part of the initiative of Sheikh Mohammed bin Zayed Al Nahyan Field Hospitals, to support the health sector capabilities and increase its absorptive capacity, its readiness and efforts to contain the emerging coronavirus Covid-19.
This comes within the framework of implementing the directives of His Highness Sheikh Mohammed bin Zayed Al Nahyan, Crown Prince of Abu Dhabi and Deputy Supreme Commander of the Armed Forces, to open field hospitals in various regions, to enhance the state's capabilities in the health sector to provide care and treatment services in accordance with the best medical standards, and at the highest quality.
In addition to Al Razeen Hospital, the committee is working on the completion of 4 other field hospitals, where a week will open a hospital in Mafraq with the same capacity, and then Mussafah, Al-Ain and Al-Dhafra.
Al Razeen Hospital
Al Razeen Hospital established according to the highest international standards followed, with an area of ​​46,500 square feet. It accomplished within 9 working days, by a team of 317 engineers, technicians and supervisors who worked around the clock.
The field hospital has a capacity of 200 beds for patients infected with the emerging coronavirus. In addition to the availability of 50 intensive care units.
The hospital includes internal divisions using light steel technology. The floors are specially designed according to safety standards and preventive medicine.
It also contains the latest devices and entertainment facilities. It meets the fitness and health needs of patients, as well as free high-speed internet services and personal iPad devices.
Also, all beds are equipped with television and headphones to maintain the patient's comfort and psychological state. In order to eliminate the boredom that he may feel during the period of treatment or health isolation.
Abu Dhabi New hospital features
The hospital includes examination centers, x-ray units, pharmacies, medical storage areas, rest houses, restrooms and restaurants for the medical staff. It supposed to consist of 20 highly qualified doctors, along with 50 nurses to provide assistance to patients and doctors alike, and more than 50 administrative staff for other cleaning-related tasks Sterilization, food, safety, and security.
The hospital also features unique central air conditioning systems that rely on air treatment according to the latest medical standards. The uses of negative air pressure to ensure airflow to isolated and not outside wards. It prevents infection from reaching the outside world. In addition to the latest sensor systems, surveillance cameras and firefighting systems. As well as Care rooms at the highest level of supply and self-sterilization systems for the entrances, as well as toilets for medical staff and others for patients. In order to avoid any possibility of transmission.
Source: zawya