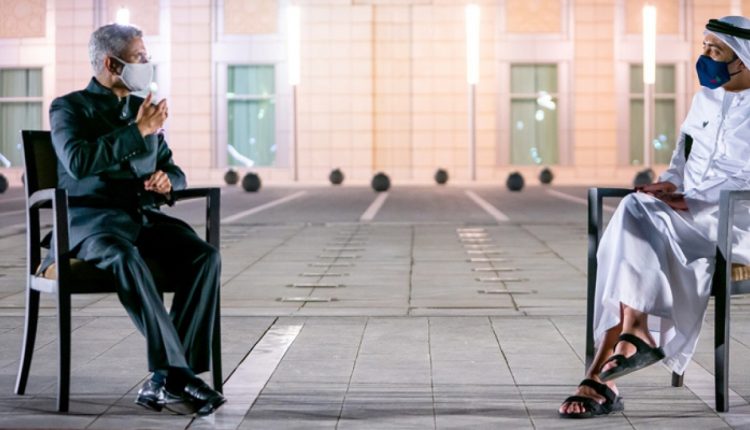 Abdullah bin Zayed and Minister of Foreign Affairs of India discuss collaboration
The strategic relations between the two friendly nations have been examined by H.H. Sheikh Abdullah bin Zayed Al Nahyan, Minister of Foreign Affairs and International Cooperation, and Dr. Subrahmanyam Jaishankar, Minister of Foreign Affairs of India, and the prospects for more increasing cooperation in the fields of agriculture, healthcare, trade and food security.
This came as the top UAE diplomat received Dr. Subrahmanyam at the headquarters of the Ministry, where they also shared views on the region's new trends and a host of foreign issues of concern, with Sheikh Abdullah stressing the two countries' privileged and long-standing ties.
India & UAE: A good relation for a good future
Thanks to the assistance of the leadership of the two nations, Sheikh Abdullah also hailed the increasingly increasing relations of cooperation on all fronts. In appreciation of the Indian minister and his accompanying delegation, he arranged a dinner banquet.
Khalifa Shaheen Al Marar, Assistant Minister for Foreign Affairs and International Relations in Political Affairs. Also Pavan Kapoor, India's Ambassador to the UAE, all participated in the conference.
In the UAE, more than 3 million Indians live and work, the Ministry of Foreign Affairs said in a statement before the minister's visit began.
According to the website of the Indian Embassy in Abu Dhabi. The largest ethnic group in the UAE is currently the Indian expatriate community of approximately 30.4 lakh. Comprising approximately 30 percent of the population of the region.
Kerala is the most popular among the Indian states, followed by Tamil Nadu and Andhra Pradesh. Nevertheless, Indians from the northern states, all added together still make up a large proportion of the Indian population of the UAE, it noted.
The two friendly countries share a lot of historical ties. This collaboration isn't the first that happens between them. Also it's for sure not the last. We hope it will result in a better future for both.