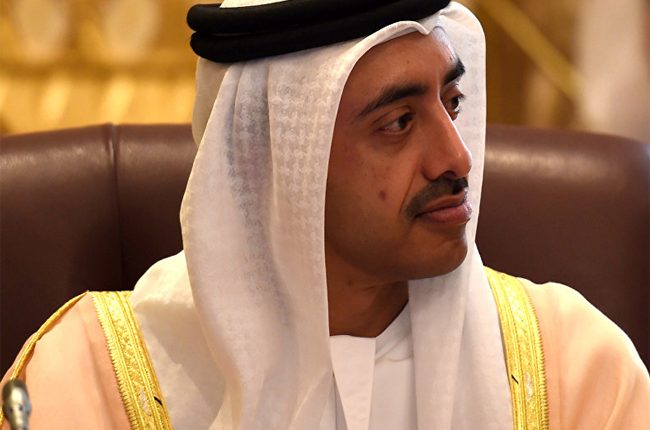 Abdullah bin Zayed chairs the Higher Committee meeting for Anti-Money Laundering
On Sunday, Minister of Foreign Affairs and International Cooperation Sheikh Abdullah bin Zayed Al Nahyan chaired a meeting of the Higher Committee Supervising the National Anti-Money Laundering and Combating the Funding of Terrorism Policy, held remotely via video conference.
Sheikh Abdullah bin Zayed insists on fulfilling the committee's goals
The Committee members got an invitation by Sheikh Abdullah. He also welcomed the contributions of the task forces to fully accomplish the goals assigned to the Committee. He was briefed on the changes and success of the committee's work.
Minister of State Ahmed bin Ali Al Sayegh reported that earlier this year the Cabinet had released Resolution No. 74 for 2020 concerning lists of terrorists. Also the execution of decisions of the United Nations Security Council concerning the prevention and counter-financing of terrorism and the non-proliferation of weapons of mass destruction, as well as the related resolutions.
The Minister of Justice, Sultan bin Saeed Al Badi Al Dhaheri, referred to the four Guidance Guides on Money Laundering Offences and International Judicial Cooperation. They recently appeared and went to the authorities concerned. He added that for one month, a total of 200 UAE law firms that had not complied with anti-money laundering procedures were suspended from operating. Once they complete their commitments, their termination will be lifted.
Seven law firms in the UAE paid AED 100,000 each for anti-money laundering offences, Al Badi said.
New Federal laws are coming
Community Development Minister Hessa Essa Buhumaid announced that the Ministry would also apply to the Cabinet proposed amendments to Federal Law No. (2) of 2008 on Voluntary Associations and Public Profit Institutions for approval and issuance of amendments to the Act.
Cabinet Minister of Economy Abdullah bin Touq Al Marri referred to Cabinet Resolution No. (58) of 2020 on the legislation of the Beneficial Owner Procedures. It appeared as part of the UAE's efforts to tackle money laundering and also terrorist financing.
This is a list of who attended the meeting. The Minister of State for Financial Affairs, Obaid bin Humaid Al Tayer and the Minister of Justice, Sultan bin Saeed Al Badi Al Dhaheri. Also the Minister of Community Development, Hessa Essa Buhumaid; the Minister of Economy, Abdullah bin Touq Al Marri; the Minister of State, Ahmed Ali Al Sayegh; the President of the Federal Customs Authority, Ali Saeed Matar Al Neyadi and also the Governor, Abdulhamid Saeed.