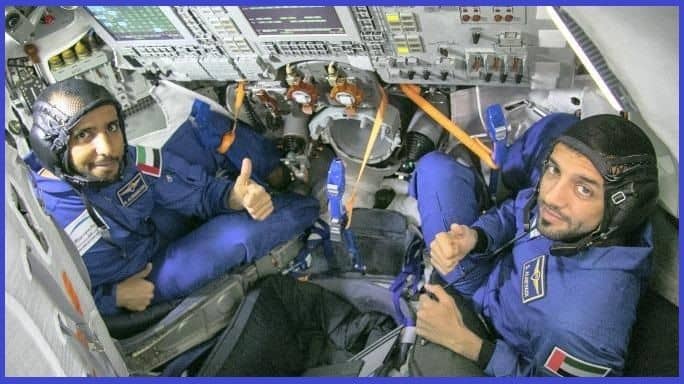 A Unique Insight into Life on Mars with Adventurous Emiratis
The hunt is on for adventurous Emiratis keen to provide a unique insight into life on Mars. The mission launched to find Emiratis to replicate life on Mars.
UAE plan for a Mars mission
European Space Agency
Being trapped inside a confined space capsule on Earth for eight months is an altogether different proposition.
That is the daunting challenge facing the successful applicant from an expected intake of hundreds of Emiratis with ambitions of aiding the UAE's planning for a Mars mission.
The winning candidate will join a team of five others selected by other space agencies around the world.
Adnan Al Rais said:
The Mars 2117 program manager at the Mohammed bin Rashid Space Centre.
UAE Analog mission one will focus on a six crew for a period of eight months.
In order to study the physical and psychological impacts of that time in a confined space.
"International co-operation is very important to us, so we are working with all the international space agencies on this project.
"They will have limited communication with the outside world, and their tasks will be simulated as they would be carried out on Mars."
Join CrewONE and contribute to the research that will lay the foundation of the #UAE's vision to establish a colony on #Mars by 2117. To apply email us at [email protected] pic.twitter.com/t4T2z3GXU1

— MBR Space Centre (@MBRSpaceCentre) February 15, 2020
The first Emirati to launch into space
Major Hazza Al Mansouri
He became the first Emirati to launch into space on September 25 of last year.
When he took off from the Baikonur Cosmodrome in Kazakhstan on-board a Russian Soyuz rocket.
He returned on October 3 after conducting a series of scientific experiments at the International Space Station.
Months of preparation with his colleague Sultan Al Neyadi at the cosmonaut training centre in Star City near Moscow.
Which included learning how to survive, should their return flight land in the vast Russian wilderness.
A Unique Insight into Life on Mars with Adventurous Emiratis
The Specifications for the chosen astronauts
Applicants for the Analog mission hoping to be part of Crew One face a more mundane but no less challenging adventure.
They will be totally cut off from physical contact with the outside world but will have access to phone calls and information as per protocols on the ISS.
Emiratis must submit their interest to join the program before March 4.
A panel of judges will assess submissions during a month-long interview and review process, with the two finalists selected in May.
? Do You Have What It Takes? ????

You could be the next Emirati astronaut ?
➡ prove once again that there is no limit to our ambitions!
? Get your place in the second batch of the #UAE
Further your ambitions of #space exploration.#UAEVoice #NASA #Astronaut pic.twitter.com/Z6bIEFfq8v

— UAE VOICE (@uae_voiceen) February 12, 2020
The applicant's criteria
Successful applicants must fit a set of strict criteria.
Such as:
A passion for space
knowledge of foreign languages
Specifically English and Russian, and higher education
The Phases After selection 
Mr Al Rais

said

:
Phase One:
It was completed in October when universities and scientists submitted their research proposals that the crew should undertake during their mission.
They included looking at the latest robotic and face technologies and the impact of space on Arabic genes.
Phase two:
The operation will open the door for UAE nationals to apply to take part in the eight-month mission.
This summer, the Hope Probe will launch from the UAE to study the atmosphere on Mars.
The Aims of the Program
It aims to collect two years' worth of data ahead of an anticipated manned-mission to the red planet sometime within the next century.