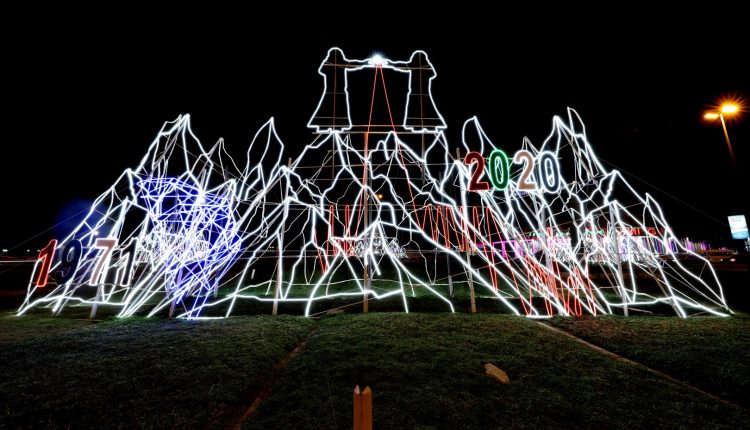 The 49th National Day Celebration in Al Ain City Municipality
Al Ain City Municipality has completed the installation and operation of the decorations for the 49th National Day of the State by using over 3000 models, decorating 1600 palm trees, and installing 1000 flags to cover an area of 100 km distributed over the streets and squares of the city with new ideas that embody the state's achievements in various fields to form a light image that tells these achievements and starts in the middle This November.
Diversity of 49th National Day Decorations
This year, the Zeina team focused on the axes of creativity and innovation in selecting designs and materials that take into account the requirements of sustainability, besides using the latest technologies in lighting and adopting timing technology to give decorations an impression of permanent movement, while using lighting to preserve the environment.
The Head of the National Day Zeina team at Al Ain City Municipality, Nahid Al Dhaher, said: We focused on the decorations for this year to bear the digital character to reflect the science and technology role and the state's achievements. Regarding the fifty, the Emirati identity, the martyr's day, hope, and the space probe that reflects the UAE's position in science, knowledge, and the achievements made in the scientific field.
She added the medals included the number 49 to celebrate the fifty-year-old establishment of the federation, which symbolizes the preparations for the next fifty years and passaging fifty years of the union's life, which is a journey towards the future through the stages of development and comprehensive development that the country is witnessing in various fields.
The spread of 49th National Day Decorations
She explained that This year, Zina covers most areas of Al Ain as the decoration area exceeded 100 km, distributed over the city of oases, which included roundabouts, principal streets, entrances to the city, and its borders towards the city center, besides spaces Al Ha'ir, Al Faqa, Al Qaa, Al Wajh, Al Khazan, Sweihan.
Some designs included the identity of Al Ain City such as Al Jahili Fort and Sheikh Khalifa bin Zayed Al Nahyan Mosque, besides distinctive models inspired by the phrases of the national anthem. Also, Khalifa Street was decorated with decorative arches through branches and leaves symbolizing the sustainability and aesthetics of Al Ain City, and the courses were decorated with three-dimensional designs and heights exceeding 5 meters, taking into account the different designs of intersections from those used in street decorations.