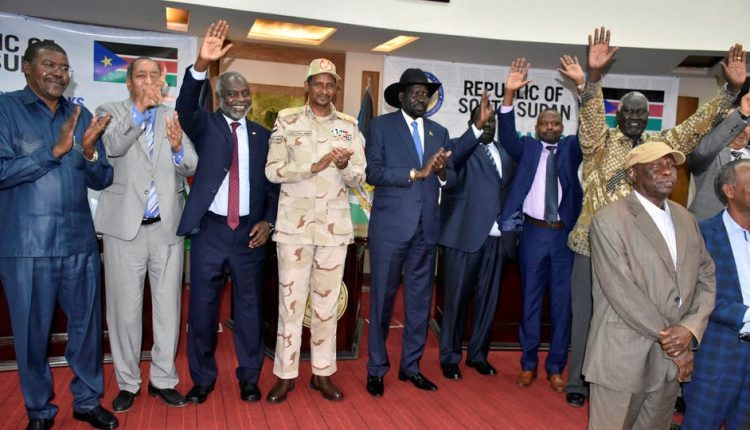 Initializing agreement to end 17 years of civil war in Sudan
The official Sudanese News Agency "SUNA" reported on Sunday that representatives of the government and the Sudanese Revolutionary Front, which includes four armed movements, had initialled an agreement to end 17 years of civil war in Sudan.
The Historic Peace Agreement In Sudan
The official signing of the agreement
It is supposed to take place today, Monday, in Juba, the capital of South Sudan this agreement aims at ending 17 years of civil war in Sudan.
The ends of 17 years of civil war in Sudan
The representatives of the various parties signed their initials in Juba on the protocols that make up the peace agreement:
Security
Land issue
Hawker
Transitional justice
Compensation
Reparation
Nomads
Herders sector development protocol
Wealth division
Power-sharing protocol
The issue of displaced persons and refugees
Achieve peace for the Sudanese people
The chief mediator and security advisor to the President of Southern Sudan, Tutko Gatluk, said yesterday, Saturday, that the government of southern Sudan "has implemented what it pledged to do."
It is expected that Sudanese Prime Minister Abdullah Hamdok, President of South Sudan, Salva Kiir, and many foreign delegations will officially sign Monday with the Sudanese Revolutionary Front.
This alliance includes the movements that fought in Darfur (west) and in the states of South Kordofan and the Blue Nile in the south.
Hamdok went to Juba on Sunday at the head of a large delegation that includes five ministers, according to the "SUNA" agency.
Peace negotiations end 17 years of civil war in Sudan
Peace negotiations, a priority for the new Sudanese government after the fall of Omar al-Bashir in April 2019, began in November in Juba, in order to end 17 years of civil war in Sudan.
The agreement stipulates the necessity of dismantling the armed movements and their fighters joining the regular army, which will be reorganized to be representative of all components of the Sudanese people.
But two groups will not sign the agreement on Monday, namely the "Sudan Liberation Movement" led by Abdel Wahid Nur, and the "Popular Movement for the Liberation of Northern Sudan" led by Abdel Aziz Al-Hilu.