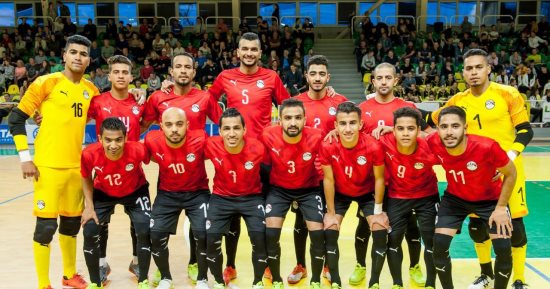 16 players in the futsal team before travelling to UAE
Hisham Saleh, coach of the futsal team, announced the team's list in preparation for entering a closed camp, next Sunday, before the team's delegation headed by Dr. Sahar Abdel Haq, a member of the committee in charge of managing the Football Association and the Futsal Superintendent, heads to the United Arab Emirates, on October 30, for two friendly matches against The United Arab Emirates national team will take place on November 3 and 5, as part of the Pharaohs' preparations for the 2021 World Cup in Lithuania.
The Cairo camp list of players
The Cairo camp includes 16 players, of whom 13 go to the Emirates, joined by Essam Alaa, a professional in the Emirati league, and the list of the Pharaohs includes Mahmoud Shubert, Gamal Abdel Nasser, Abdel Rahman Al Jarwani, Moataz Billah Sami, Ibrahim Awad Bouji, Ahmed Abdel Qader, Mustafa Eid, Muhammad Abdul Hamid Kuki, Muhannad Hanafi and Abdel Rahman Mustafa, Alaa Dunga, Islam Scorpion, in the German league at "Wuppertaler SV", Amr Kamal, Mohamed Hamed Qatah, Muhammad Saeed and Khaled Maradona.
Futsal team preparation for the World Cup
For his part, Hisham Saleh, the futsal team coach, confirmed that the futsal team is preparing strongly for the World Cup in order to achieve a new achievement that will be added to the futsal team achievements.
futsal team aganist UAE national team
In statements to the official website of the Football Association, Hisham Saleh, the futsal team coach said that he preferred to face the United Arab Emirates national team, as it is one of the strong Arab teams in the game, and that it would be a good contact for players at the international level in light of the presence of some new elements joining the Egyptian team camp.
Hisham Saleh, the futsal team coach continued, "We have replaced and renewed the national ranks with the aim of moving down the average age and discovering new elements that would be a strong addition in the coming period."